Lydia Wasylenko to Receive SU Libraries Assembly 2019 Distinguished Service Award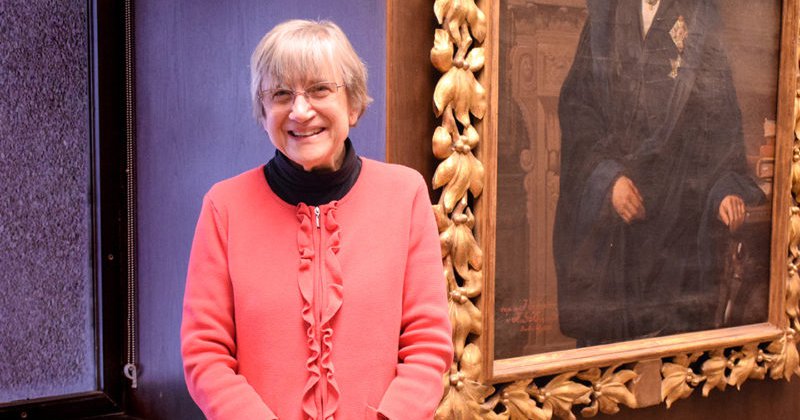 Lydia Wasylenko, librarian for Humanities and Citizenship, has been selected by the Syracuse University Libraries Assembly to receive the 2019 Distinguished Service Award. The award will be presented to Lydia at the Libraries' annual holiday party on December 17, 2019 at 2 p.m. in Bird Library. Lydia was selected based on her contributions to the Libraries and the broader community, her service to the profession, and her excellence in professional skills.
The Distinguished Service Award has been presented to a deserving Libraries employee since 1990. It was started as a way for Libraries staff to recognize one of their peers. Nominations are open to all Libraries employees and include a recommendation from the person's supervisor as well as at least two members of the University community.
As a subject librarian, Lydia's service has been in various academic disciplines.  From economics to history to Slavic studies, Lydia has excelled in providing "superior reference and research consultation assistance to countless Syracuse University students and faculty." Lydia has also provided her expertise behind the scenes in technical services, cataloging, and database management.
An important reason for Lydia's receipt of this award is her ongoing connection with faculty members. One professor credited Lydia with helping her to "effectively create and teach new courses in my field," noting that she has met with Lydia multiple times every semester for many years. Lydia's dedication to meeting the needs of faculty are reflected in her outstanding work in collections development and her "ability to interact effectively and tactfully with a variety of different faculty personalities."
Fellow librarians point to Lydia as "one of our more critically engaged colleagues," having worked on the development and oversight of two different professional groups.  She has ably "represented the Libraries on the University Senate, engaging in the development of a number of key initiatives." Outside of Syracuse University, Lydia has worked with organizations such as the DeWitt Community Library as a long-time board member "deeply involved in their selection of an architect and move to their Jamesville location."
Lydia is highly deserving of the Distinguished Service Award, "as a role model for any academic librarian, consistently contributing to organizational excellence." As someone summarized, "there is something special about colleagues like Lydia, who do not bear the recognition of leadership … but forge ahead leading gently from within."