2018 Mary Hatch Marshall Essay Award reading and reception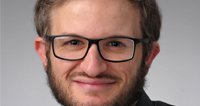 A reading and reception celebrating the winner of the annual Mary Hatch Marshall Essay Award will take place on Thursday, April 19 at noon in the Peter Graham Scholarly Commons in Bird Library. The event is free and open to the public.
Thomas J. West III (T.J.), a Ph.D. candidate in English at Syracuse University's College of Arts and sciences, has been selected to receive this year's award for the best essay by a graduate student in the humanities at Syracuse University.
West's paper entitled "The Spirit is Willing, but the Flesh is Weak: Embodied Transcendence and Sacred Spectatorship in The Robe" is soon to be published in the journal Material Religion.
The annual award honors Mary Hatch Marshall, the first woman to achieve the rank of full professor in The College of Liberal Arts. She held the Jesse Truesdell Peck Chair in English literature, served as the first director of the Honors Program, and was among the founding members of Library Associates.
Students from African American Studies; Art & Music Histories; English; Languages, Literatures, and Linguistics; Philosophy; Religion; Writing Studies, Rhetoric, and Composition; and Women's and Gender Studies are eligible for the award.
Library Associates established the annual award to honor and help perpetuate Mary Hatch Marshall's scholarly standards and generous spirit. Members of Library Associates, Marshall's friends and family, the Gladys Krieble Delmas Foundation, and the Central New York Community Foundation all contributed to the endowment established in 2004 that funds the award.
For those wishing to make a gift to the Mary Hatch Marshall Award Endowment in remembrance of or in honor of Mary Hatch Marshall, please contact Ron Thiele, assistant dean for advancement for the Libraries at rlthiele@syr.edu or 315.560.9419.