Biblio Gallery Exhibit: Master Copy Drawings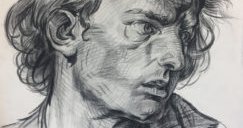 Syracuse University Libraries' new Biblio Gallery Exhibit on the 4th Floor of Bird Library, titled "Master Copy Drawings," is on display from October 1 through November 1, 2019. Master drawings are records of the artist's creative process. Master copies are considered an essential form of practice for the beginning drawing student, since it facilitates the student's development of the importance of line quality and mark making. The master copy drawing assignment integrates research, art history, and drawing skill. To prepare for the assignment, students participated in a workshop taught by Ann Skiold, associate librarian, which introduced them to resources available in Syracuse University Libraries.
Pieces in this exhibit were selected from three sections of first year studio students in the two courses Drawing I: Observation and Drawing Nature in the School of Art. The student drawings represent a range of master artists' approaches in figurative and landscape works from the Renaissance, Baroque, Romantic, Rococo, and Neo-Classical periods. The pieces on display were selected by studio instructors: Susan D'Amato, Associate Professor, Drawing Coordinator; Holly Greenberg, Associate Professor, Printmaking Coordinator; and Sarah McCoubrey, Professor, Painting Coordinator.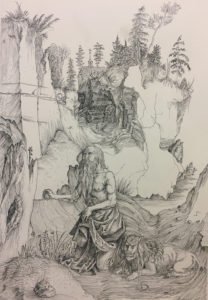 Master Copy Drawing from Biblio Gallery
Students whose work is featured in the exhibit are: Nicole Blanchard, Sike Chan, Chloe Crookall, D'Mya Curtis, Emilie DelSignore, Emma Edelin, Abe Frankel, Diana Garcia, Aisling Kenny, Zhanhao (Jim) Liang, Shianne Lindsay, Claudia Lynch, Sophia Medieros, Callen Moore, Celena Mouton, Leito Navarete, Lydia Pleasants, Nikkos Saviolis, Robert Spano, Kayla Tomlin, Jiaqi Yuan, and Anna Zinan.
For more information about the Biblio Gallery, contact S. Ann Skiold, MFA, MLIS, Librarian for Decorative & Applied Arts, Design, Art History, Film, Photography, and Spanish & Italian at Syracuse University Libraries or apply to submit an exhibit via Biblio Gallery exhibition submission.