Libraries Appoints Director of Special Collections Research Center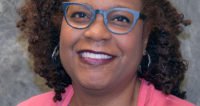 Petrina Jackson is Syracuse University Libraries' new Director of the Special Collections Research Center, effective June 3, 2019.  She comes to the SU Libraries from Iowa State University, where she was Head of Special Collections and University Archives since 2016, and before that was Head of Instruction and Outreach at the University of Virginia's Albert and Shirley Small Special Collections Library, and Senior Assistant Archivist for the Division of Rare and Manuscript Collections at Cornell.
"I am so excited to join SU Libraries and work with the fantastic staff of the Special Collections Research Center," says Ms. Jackson, "and to building the SCRC's distinguished collections and support for scholarship and teaching. I look forward to our work ahead." David Seaman, Dean of Libraries and University Librarian, adds "we are delighted to have Petrina bring her expertise, energy, and engagement to the SU Libraries, and I'll look forward to seeing the SCRC continue to develop into a major university resource for faculty and students alike."
Petrina Jackson holds a Master of Library and Information Science degree from the University of Pittsburgh, an MA in English from Iowa State University and a BA in English from the University of Toledo, and is well known nationally, being active in both the Society of American Archivists and the American Library Association's Rare Books and Manuscripts Section.