Petrina Jackson Featured as Keynote Speaker at Society of Georgia Archivists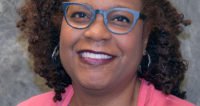 Petrina Jackson, Director of Syracuse University Libraries' Special Collections Research Center, gave the keynote address at the Society of Georgia Archivists (SGA) conference on October 17, 2019 in Augusta, GA. The conference theme was Strong Roots, Stronger Branches: SGA at 50.
In her keynote address, Jackson explored how her family's stories have helped to shape her identity and perspective and how that shaping has impacted her approach to archives. Her family has roots in Georgia. She stated, "….my archival work has centered on advocacy, bringing stories relegated to the margins to the forefront, and guiding and empowering all staff to challenge their assumptions and lead from where they are to create an equitable and inclusive archives, workplace, and field." She further stated that to accomplish her goal of an inclusive archives, she needs accomplices and allies to break out of the status quo and help bring strong, positive change.
Petrina joined Syracuse University Libraries in June 2019 from Iowa State University, where she was Head of Special Collections and University Archives since 2016, and before that was Head of Instruction and Outreach at the University of Virginia's Albert and Shirley Small Special Collections Library, and Senior Assistant Archivist for the Division of Rare and Manuscript Collections at Cornell.
Petrina holds a Master of Library and Information Science degree from the University of Pittsburgh, an MA in English from Iowa State University and a BA in English from the University of Toledo, and is well known nationally, being active in both the Society of American Archivists and the American Library Association's Rare Books and Manuscripts Section.