Poet Dylan Krieger Reads Lunch Time Poems on Friday, November 30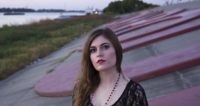 On Friday, November 30, poet Dylan Krieger will present the final Lunch Time Poems reading of the semester.  Krieger is author of three books, Giving Godhead (Delete Press, 2017), No Ledge Left to Love (Ping Pong, 2018), and Dreamland Trash (Saint Julian, 2018). Krieger lives in southern Louisiana. She earned a bachelor's degree in English and philosophy at the University of Notre Dame and an M.F.A. in creative writing at Louisiana State University.
The reading will take place from noon to 1pm in the Peter Graham Scholarly Commons, first floor, Bird Library. Hosted by poet Stephen Kuusisto, University Professor and Director of the Burton Blatt Institute for Interdisciplinary Research, the Lunch Time Poems series has featured many noted poets. All events are open to students, staff, faculty, and the general public.
At the event, the publishers of Nine Mile Magazine will be giving away copies of the spring and fall 2018 issues.
Communication Access Real-time Translation (CART) and American Sign Language (ASL) interpretation will be provided, and if you require any additional accommodations please contact Liz Cronkwright at 315.443.2573 or emcronkw@syr.edu.