Reimagining Bird Library: Presentations by Architecture students on November 16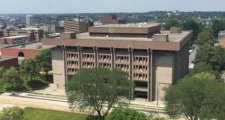 Students from School of Architecture Professor Randall Korman's spring  2017 "Integrated Design Studio" (ARC 409) class will present their ideas for a reimagined and redesigned Bird Library at a presentation on Thursday, November 16 from 4 – 5:30 p.m. in the Peter Graham Scholarly Commons, 114 Bird Library.
With Bird Library as their project site, students were asked to reuse the existing structure – stripped to its skeleton – and adapt it to serve the needs of an updated and expanded program of functions and services. Students were also required to make their reconceived building a model of sustainability, using active and passive technologies to reduce energy consumption and improve quality of life. Students will share the research materials, drawings, and models created for the semester-long project.
The session is open to the public. Light refreshments will be served. For more information, or if you require accommodations to fully participate in this event, please contact Kelley Parker at kaparker@syr.edu or 315.443.5533 by Friday, November 10.