SCRC Contributes to SU Art Museum's Exhibition "Precious Metal: Gold Across Space and Time"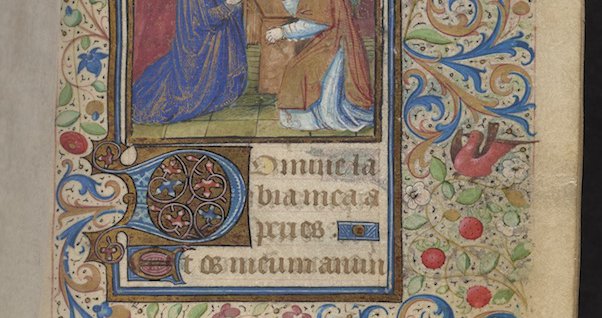 SU Libraries' Special Collections Research Center (SCRC) has selected collection items currently on view at the SU Art Museum's most recent exhibition, Precious Metal: Gold Across Space and Time. On view until December 11, 2022, Precious Metal is a celebration of the fifth anniversary of the significant discovery by global scientists and scientists at Syracuse University, who witnessed the production of gold through the collision of two neutron stars. SCRC staff Irina Savinetskaya, Curator (early to pre-20th century), and Daniel Sarmiento, Curator (20th century to present), partnered with SU Art Interim Chief Curator, Melissa Yuen, to include a selection of SCRC items along with input from Romita Ray, Associate Professor and Director of Undergraduate Studies in History of Architecture; Duncan Brown, Vice President for Research and Charles Brightman Professor of Physics; Stefan Ballmer, Professor of Physics; and Steve Penn, Professor of Physics at Hobart and William Smith Colleges.
Visitors can glimpse a selection of SCRC materials that support the exhibition's purpose in considering "how people have exploited gold's unique physical properties to make art and to convey ideas about spirituality, power and opulence." For cinema buffs and popular culture fans, an Academy Award won by Hungarian American composer and conductor Miklós Rózsa for scoring the 1959 film Ben Hur is featured. Also highlighted is a Book of Hours, also known as MS 6 (ca. 1480-1500), a unique devotional work with intricate illuminated miniatures decorated in gold. Additionally, a text largely considered the earliest printed book on metallurgy, La pyrotechnie, ou Art du feu, by Vannoccio Biringuccio, is on view as well as a German Jewelry Making Manual from 1891, which includes instructions and recipes related to gold.
"SCRC curators are passionate about the collections they steward and enthusiastic to increase access and knowledge of historical resources and primary sources found within our world-class special collections. SCRC's partnership with SU Art on Precious Metal is an excellent example of collaborating with campus partners to expand the reach of SCRC collection materials across SU's campus community," said SCRC Lead Curator Courtney Hicks. Curator of Precious Metals Melissa Yuen, Interim Chief Curator at SU Art, said, "I am delighted to work with my colleagues at the SCRC to showcase some of the treasures we have at Syracuse University. While the exhibition primarily highlights the cosmic origins and earthly meanings of gold, it also underscores the depth of expertise on campus that we are eager to share through collaborations such as this with our academic community."
To learn more about SCRC's items on view in Precious Metal, please join Irina Savinetskaya during an upcoming talk as part of SU Art's Lunchtime Lecture series on November 30th, from 12 - 12:45 pm, being held at SU Art Museum, Shaffer Art Building.