Sound Beat: Access Audio Offering Children's Audiobooks about Enslaved People by Cheryl Wills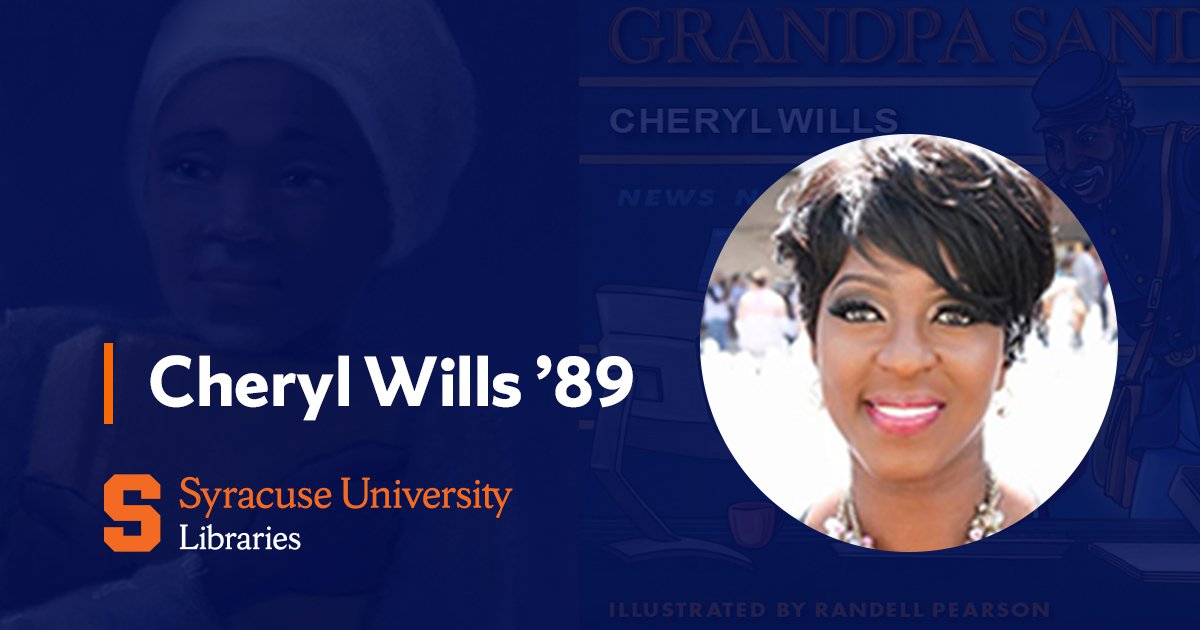 Sound Beat: Access Audio is providing two free family audiobooks, written by Emmy Award-winning journalist Cheryl Wills '89,  the great-great-great granddaughter of Emma and Sandy Wills, enslaved people from Haywood, Tennessee. The audiobooks are narrated by the author and are also available in video form, featuring artwork from the original print books. Educational materials and discussion questions are included for educators and caregivers, designed to spark conversation and foster understanding for younger listeners. Both stories offer important tales of triumph in the face of extreme adversity. These Access Audio productions have been made available as a gift from the Syracuse University Libraries' Special Collections Research Center. Links to the materials are available online at http://soundbeat.org/sound-beat-access-audio/emma-the-emancipation-of-grandpa-sandy-wills/.
"The Emancipation of Grandpa Sandy Wills" uses actual Civil War military records as a backdrop, detailing Sandy's journey from a suffocating slave plantation to a Union Army camp, then on to a new life as a free man. Featuring Carter Boone as Grandpa Sandy.
"Emma" would become Sandy's wife, and grew up a brave and strong enslaved woman who had to fight for everything in her life – her freedom, her hope, and her dream of education for her family.
Author Cheryl Wills '89
(S.I. Newhouse School of Public Communications) has received awards from The Associated Press, New York Press Club, Newswomen's Club of NY Front Page Award, as well as a medal of excellence from the prestigious United Nations Correspondents Association. In recognition of her career, the veteran journalist received an Honorary Doctorate from New York College of Health Professions in May of 2005. Wills was the first journalist invited to speak before the General Assembly of The United Nations in March of 2011 about the impact of slavery on her family during the UN's International Remembrance of Victims of the Transatlantic Slave Trade.
About Sound Beat: Access Audio
Sound Beat is a daily, 90-second radio show highlighting the holdings of the Belfer Audio Laboratory and Archive. Belfer is part of Syracuse University Libraries' Special Collections Research Center and is one of the largest sound archives in the United States. Each Sound Beat episode focuses on one particular recording from the Archive and provides a back story detailing its place in recording history. Sound Beat: Access Audio features long-form audio projects including audio books, interviews, narrated journals, and documentary-style storytelling that highlights the experiences of iconic Syracuse University community members. Sound Beat: Access Audio projects have included collaboration with students, faculty, staff, and administration from partners across the Syracuse University campus. Inclusion and the student experience are at the forefront of Sound Beat: Access Audio's mission. Through an exciting partnership with the Lawrence B. Taishoff Center for Inclusive Higher Education's InclusiveU, students form an integral part of the Sound Beat: Access Audio team in all aspects of production, working with Libraries staff to develop their research, writing, and editing skills.