Special Collections Research Center Acquires Several Notable Collections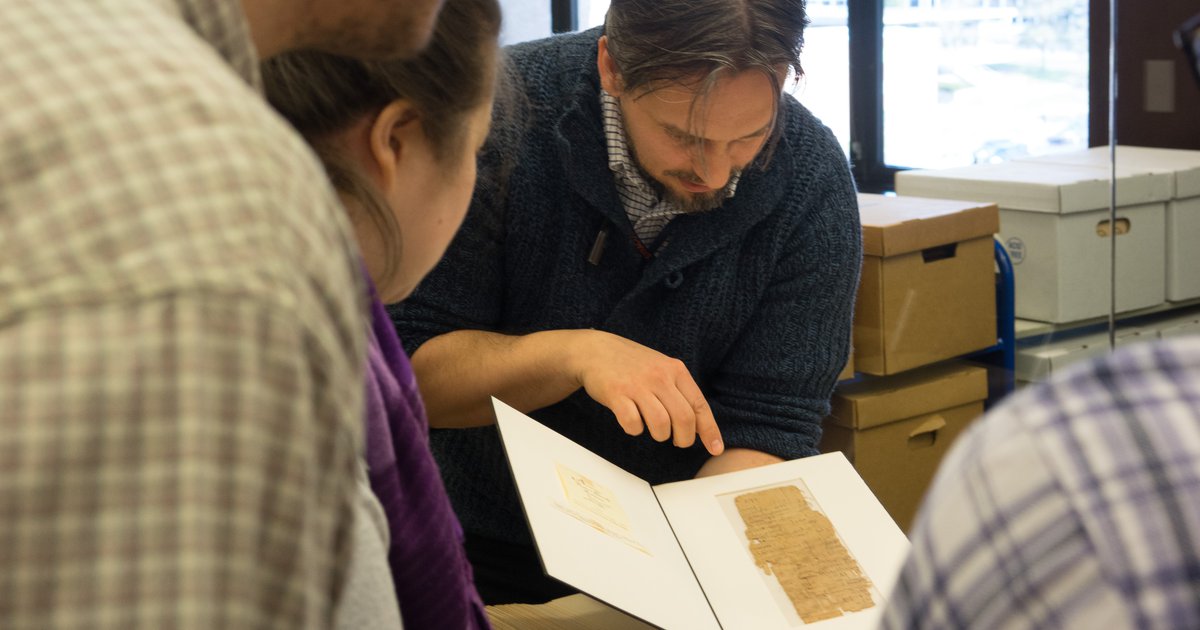 Syracuse University Libraries' Special Collections Research Center (SCRC) acquired several notable collections over the past fiscal year (July 1, 2018 through June 30, 2019). With these new acquisitions, the SCRC now has 77,956 linear feet in its total collections.  New acquisitions include:
Josef Albers, Interaction of Color, New Haven, 1963.
The Interaction of Color by Josef Albers (1888-1976), published by Yale University Press in 1963, consists of a set of silk-screened prints that demonstrate how the eye perceives color differently when set next to other colors. The set was originally a limited run of 2000 sets of prints with an accompanying book. This work allows students and scholars to study the effects of color on the original prints on paper instead of reprints or digital surrogates, which is crucial for this kind of exploration. Albers was an influential teacher, writer, painter, and color theorist and taught industrial design at Syracuse University in the 1950s.
Bernhard of Clairvaux, [Works], Paris, 1508.
This volume, recently purchased with funds from the Library Associates, contains the works of Bernard of Clairvaux, a French abbot and major leader in the establishment of the Cistercian monastic order. This unique item, printed in 1508 by Jehan Petit, one of the official publishers at the University of Paris, documents the slow evolution of the book from the medieval codex to the Renaissance print. The book is decorated both with an illuminated initial and printed woodcut initials. The beveled wooden boards bound in blind-stamped pigskin still show the hole for the chain which would have secured it to a medieval bookshelf.
Alexander von Humboldt, Geognostische und physikalische Erinnerungen, Stuttgart/Tübingen, 1853.
Intended to be the first part of a whole series of geological, volcanological and physical publications, this first edition of the great German polymath's description of Mexican and Andean volcanoes and the accompanying atlas are a milestone of 19th century scholarship. The tinted views of the atlas offer stunning examples of scientific pre-photography documentation practices.
John Fleming Gould Papers
SCRC received 12 linear feet of personal papers of the American painter, illustrator, and art instructor John Fleming Gould (1906-1996). Gould's illustrations appeared in national publications such as the Saturday Evening Post as well as pulp publications such as Adventure Trails, Dime Detective Magazine, and War Birds, while his fine art pieces often portray historical subjects and the Hudson River Valley area. As an art consultant for General Electric Company's Locomotive Division, Gould produced hundreds of illustrations for their corporate publications and advertising. Highlights of the collection include original artwork, illustrations created for General Electric, and more than 3,000 tear sheets of Gould's illustrations for pulp magazines from the 1920s through the 1940s.
Jantzen Swimwear Photographs
This album of 111 silver gelatin prints highlights the Jantzen Knitting Mills swimwear line from 1937-1943. In the early 20th century, the company was on the forefront of tighter-fitting, elastic, and less-cumbersome designs that allowed their wearers to swim more comfortably than earlier fashions of bathing dress and were similar to ones glamorized by starlets in Hollywood. The later styles in the portfolio incorporate "Lastex" (a yarn that had an extruded rubber core encased with wool), "Rayon", and cotton and silk threads. By 1932, Jantzen was reportedly the seventh most known trademark in the world.
WPATranscription Discs
The Works Progress Administration (WPA) Phonodisc Collection (351 discs) was acquired from the Newberry Library in Chicago with the assistance of SU Libraries' benefactors William and Joan Brodsky. From the mid-1930s to the early 1940s, the WPA Federal Music Project routinely sent these transcription discs with original programming to radio stations around the country. Commissioned expressly for the WPA, programming includes standards from the classical and operatic repertoires, jazz ensemble works, choral music, and traditional American folk music and spirituals. All phonodiscs in the collection will be digitized in the Belfer Audio Archive and made available online for public access.
Antje Lemke Papers
Professor Emerita Antje Bultmann Lemke (1918-2017) received her master's degree in library science from Syracuse University and served the University as a librarian and professor for 34 years. SCRC added 27 boxes of archival material comprising Lemke's teaching and research files to the University Archives existing collection of her papers.
Patricia Mary Coyle Family Papers
Patricia Mary Coyle (1968-1988) was among the 270 victims of the bombing of Pan Am Flight 103 over Lockerbie, Scotland on December 21, 1988. Patricia was a junior at Boston College majoring in Education. She had gone to Vienna, Austria to study for a semester through Webster College. The collection donated by her parents, Matt and Jan, includes family photographs, documentation of memorials, and two Dark Elegy artist's models presented to Mrs. Coyle by sculptor Suse Lowenstein.
For more information about SCRC's collections, contact scrc@syr.edu.