Special Collections Research Center to host spring listening parties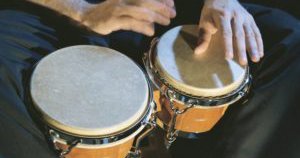 The Special Collections Research Center at Syracuse University Libraries, in conjunction with La Casita Cultural Center, will host two spring listening parties this month featuring recordings from the Bell Brothers Collection of Latin American and Caribbean Recordings, which contains over 15,000 45 rpm recordings. Both events are free and open to the public.
Bohemia & Bolero
Wednesday, February 14, 5-8 p.m.
La Casita Cultural Center, 109 Otisco St., Syracuse, NY
La Casita Cultural Center will host a Latin music showcase of classic boleros and timeless love songs to warm your heart! Join us for a special night listening to great music, dance if you like, and taste some delicious tapas… and sweets!
Africa and the Music of the Caribbean
Friday, February 23, 3-4 p.m.
Peter Graham Scholarly Commons, Bird Library, Syracuse University
From bomba to boogaloo, salsa to soul, Africa has provided source material and inspiration for Caribbean artists throughout the centuries—and vice versa. Join us to hear the sounds of this dynamic interchange.
About the Collection
The Bell Brothers Collection of Latin American and Caribbean Recordings at Syracuse University Libraries contains over 15,000 recordings from North, Central, and South America and the Caribbean. The 45-rpm disc collection includes merengue, bolero, guaracha, chachachá, pachanga, merecumbé, seis fajardeño, bomba, plena, mambo, guaguancó, son montuno, charanga, guajira, música jíbara, danzón, and more.
Max and Joseph Bell, the owners of the Bell Music Box, a New York City record store, were avid collectors of Latin and Caribbean music. Syracuse University acquired the entire inventory of the Bell Music Box store in 1963 and recently began a major digitization project to preserve and make accessible this unique collection.
If you need an accommodation in order to fully participate in this event, please contact Julia Chambers at jschambe@syr.edu.