SCRC Receives Onondaga Historical Association 2020 Medal Award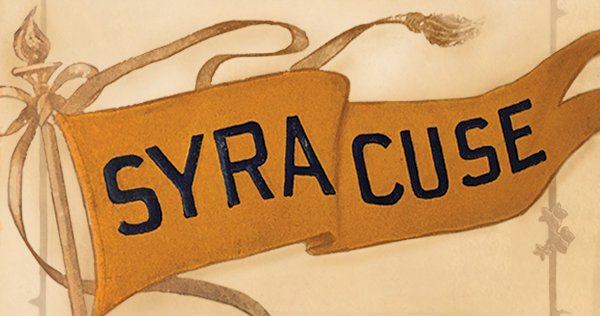 The Syracuse University Libraries' Special Collections Research Center will receive the Onondaga Historical Association's (OHA) 2020 Medal Award at a virtual event on Thursday, November 12.  The OHA Medal Award is the organization's highest honor for contributions made to the cause of preserving and interpreting Onondaga County's collective heritage. The award is being received by SU Libraries' Special Collections Research Center (SCRC) this year as the University celebrates its sesquicentennial anniversary.
The history of Onondaga County and Syracuse University are inextricably connected. SU Libraries is dedicated to advancing the University's teaching, learning, and research mission. An important component of that is preserving and interpreting the incredible assets within the Libraries' Special Collections Research Center. During the University's sesquicentennial year, SCRC staff created several exhibitions and related programming to help spotlight different areas of the University's 150-year history and provided extensive reference support to campus constituents to help prepare for the University's anniversary celebration. "Receiving this award in SU's anniversary year affirms the extraordinary effort SCRC staff have put into acquiring, preserving, interpreting, and providing access to our magnificent collections throughout the years. We are committed to this standard of excellence and to promote an even wider array of stories and programs to engage a more inclusive audience," stated Petrina Jackson, Director of the Special Collections Research Center.
"Our artifacts enable the University and Central New York communities, and researchers and historians globally, to pursue new knowledge through historical materials," said David Seaman, Dean of Syracuse University Libraries and University Librarian. "Our Special Collections Research Center has had the opportunity to collaborate with OHA on numerous projects over the years that require our collective resources of archival materials. The University's collections, like materials from Archimedes Russell, the founder of King and King Architects, or Gerrit Smith, one of the most important figures in the anti-slavery movement, are housed within Special Collections. But these artifacts are essential to the greater community's history of architecture and abolitionism. In that way, we are symbiotic."
The Award Ceremony, historically a breakfast, is taking place as a one-day virtual event on November 12. For tickets or more information, visit https://www.cnyhistory.org/oha-medal/.