Libraries celebrates Open Access Week October 22-28, 2018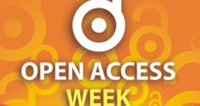 Open Access Week is an opportunity for the academic and research community to continue to learn about the potential benefits of Open Access — the principle that all research should be freely accessible online, immediately after publication — and to help inspire wider participation in helping to make Open Access a new norm in scholarship and research.
Syracuse University Libraries and Open Publishing Services will host two events for Open Access Week, 2018.
Open Access and Open Scholarship Presentation
Monday, October 22, 2018 |  3:00 P.M.- 4:30 P.M.
Bird Library,  Peter Graham Scholarly Commons, Room 114
Come learn about Open Access, the impact of research and instruction, and tips and tricks to promote your own research and scholarship. The presentation segment of this event will be live streamed through https://facebook.com/syracuselib and available later, through SURFACE.  Communication Access Real time Translation (CART) will be provided.
SURFACE Submit-a-Thon Event
Wednesday, October 24, 2018 | 10:00 A.M. – 4:30 P.M.
Bird Library, ETC, 046
Come learn how to deposit, and contribute your articles, book chapters, and other scholarship to the SURFACE OA Institutional Repository. RSVP to this free hands-on workshop will be required- for one or more hours- attend as long as you would like. Instructions will be sent prior, and staff will be available during this hands-on event. Beverages will be available, RSVP required.