Libraries hosting Hult Prize Regional Impact Competition April 9, 2021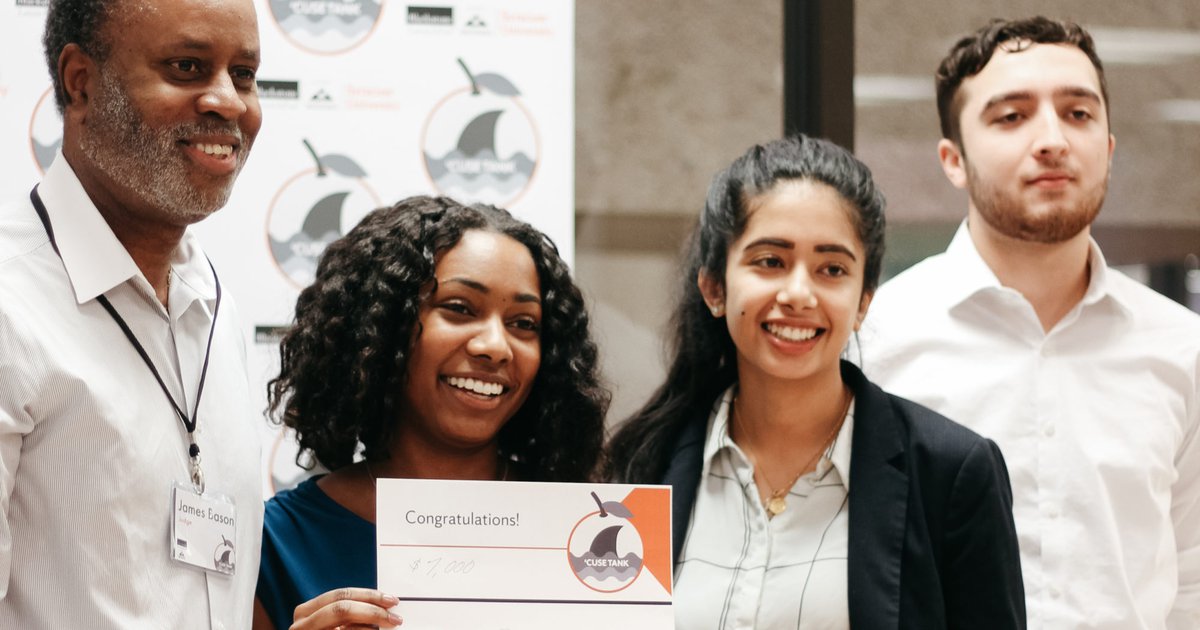 On Friday, April 9, Syracuse University Libraries' Blackstone LaunchPad & Techstars will virtually host approximately three dozen teams from 19 countries and all five continents for the prestigious Hult Prize Regional Impact Summit competition. This year's Hult Prize 2021 Challenge is centered around the theme "Food for Good." Hult Prize Impact Summits are hosted in 100 locations around the world, and this year Syracuse is one of only three regional hosts in North America. Winners of the regional campus entrepreneurial competitions go on to compete in the global competition hosted by the United Nations, with that winner receiving a $1 million seed capital grant.
The Syracuse University campus director of the Summit is Claire Howard '23 (Maxwell School of Citizenship and Public Policy), a Global Fellow at the Syracuse University LaunchPad. The day-long event will kick-off with keynote speaker Catherine Bertini, Professor Emeritus from the Maxwell School of Citizenship and Public Affairs, at 9:30 AM EST.  Bertini is the 2003 World Food Prize Laureate and long-time director of the World Food Programme which recently won the Nobel Peace Prize.
The distinguished panel of competition judges will include:
Adam Motiwala – Former global disaster information officer for the United Nations and former product manager of International Federation of the Red Cross and Red Crescent Societies, Motiwala is the current Senior Product Owner of Fifth Tribe, a digital agency that serves government agencies and nonprofits.
Ryan Riegg – An experienced lawyer and founder of startups, featured in major press outlets such as the Wall Street Journal and CNN, Riegg is an Innovation Fellow for Columbia Business School's Entrepreneurship Center, mentor for the Hult Prize, and current senior associate in corporate law.
Sheryl Chamberlain –  Chamberlain serves as a chair on the Hult Prize Council and works as the Director of Global Alliances at Coupa Software. She's experienced in strategic partnerships and business improvements and has sat on numerous boards such as Forbes Nonprofit Council and How Women Lead.
Kailesh Karavadra – Karavadra is the Global Coordinating partner for EY services of a major healthcare corporation and the San Jose Office Managing Principle. Born in Uganda and raised in India and the United Kingdom, he's spent his career serving global clients with EY and helping them improve their business performance.
Ankha Marza –  Marza is an internationally renowned executive coach at SpeakYourPower and  has coached presidents and vice presidents of countries and corporations, Navy SEALs, royalty and government dignitaries, Hollywood celebrities, Fortune 500 Executives, global sales groups, nonprofit organizations, young entrepreneurs and startup founders, CEOs, and their teams in the US and worldwide.
Derek Wallace – CEO and Founder of Kalamata's Kitchen, Wallace is a Syracuse University alumnus dedicated to creating a more open-minded generation of children through exploration of food and diversity of culture.
Catherine Bertini – An accomplished leader in international food organizational reform, Bertini is the former head of the United Nations World Food Programme and United Nations Under Secretary General. In 2003 she was named the World Food Prize Laureate for her transformational work in food access and policy. She has served as a Senior Fellow of the Bill and Melinda Gates Foundation and is currently chair of the board Global Alliance for Improved Nutrition (GAIN) and Distinguished Fellow at the Chicago Council on Global Affairs. She is professor emeritus at the Maxwell School of Citizenship and Public Affairs at Syracuse University.
Amjad Janjua  – Former committee member of the World Economic Forum and CEO of the Pakistan State Oil Company, Janjua is the President & CEO of the Business Council for Sustainable Development in Pakistan and works on projects to shape future policies for sustainable growth.
Ashok Mahbubani – Mentor for the Hult Prize, Mahbubani is the co-founder and CEO of the Multitronics Group, a business in the automotive electronics industry utilized to become a force for social good.
Ethan Tyo – A Syracuse University graduate student in food studies, Tyo is the author of his own cookbook Fetagetaboutit, which highlights a plant-based diet. He's also worked with several global entrepreneurs and food companies in content creation and planning.
In between competition pitch rounds, presenters will share "Advice of a Lifetime" featuring Derrell Smith, a Syracuse alumnus, former NFL player, food show host for Mad Good Food, and founder and CEO of the culinary brand 99EATS, a virtual brand working to connect people through food, and William Wright, Senior Vice President of Global Product Innovation and EVP and Chief Operating Officer at Tupperware Brands.
The program also includes a musical interlude with performances by Syracuse University student band NONEWFRIENDS and a networking panel moderated by two Syracuse University alumni and former LaunchPad Global Fellows and Hult Prize winners, Audrey Miller, and Amanda Chou.
A final round of pitches by the top six teams will begin at 4:15 PM EST and is open for public viewing with advance registration.
Two of the teams competing in the Syracuse Hult Prize Regional Impact Summit competition include Syracuse University teams:
WaxPax Solutions, Erica Morrison '21 (Whitman School of Management and Newhouse School of Public Communications), Lidia Menbaeva '21 (College of Arts and Sciences) and Daniel Hamrahi '21 (Whitman School of Management), a multi-purpose biodegradable packaging solution made from a proprietary blend of beeswax and cellulose that will help eliminate landfill waste in the food supply chain.
Cuapa Monde Conservation, Claire Chevalier '24 (Whitman School of Management) and Sasha Temerte '23 (College of Arts and Sciences), a consulting firm that seeks to develop universal standards for sustainable packaging, similar to the organic certification standard for producers of organic food and other organic agricultural products, for producers and consumers of all consumer-packaged goods in the U.S. and European Union.
Another Syracuse University team will be competing in the April 19 Regional Impact Summit hosted by the University of Massachusetts, Amherst:
Gather, Nolan Kagan '23 (Whitman School of Management)  a community-building web and mobile application to bring people of various ages and cultures around the world together to cook and share favorite recipes and conversation, first in the digital space and then in real life post-pandemic, to address social isolation while building cultural and social literacy among people who not might otherwise meet.
The Hult Prize Foundation transforms how young people envision their own possibilities as impact leaders of change in the world with a goal to create jobs, stimulate economies, reimagine supply chains, and improve outcomes for 10 million people by 2030.