Tarida Anantachai and Suzanne Preate Receive Libraries 2020 Distinguished Service Award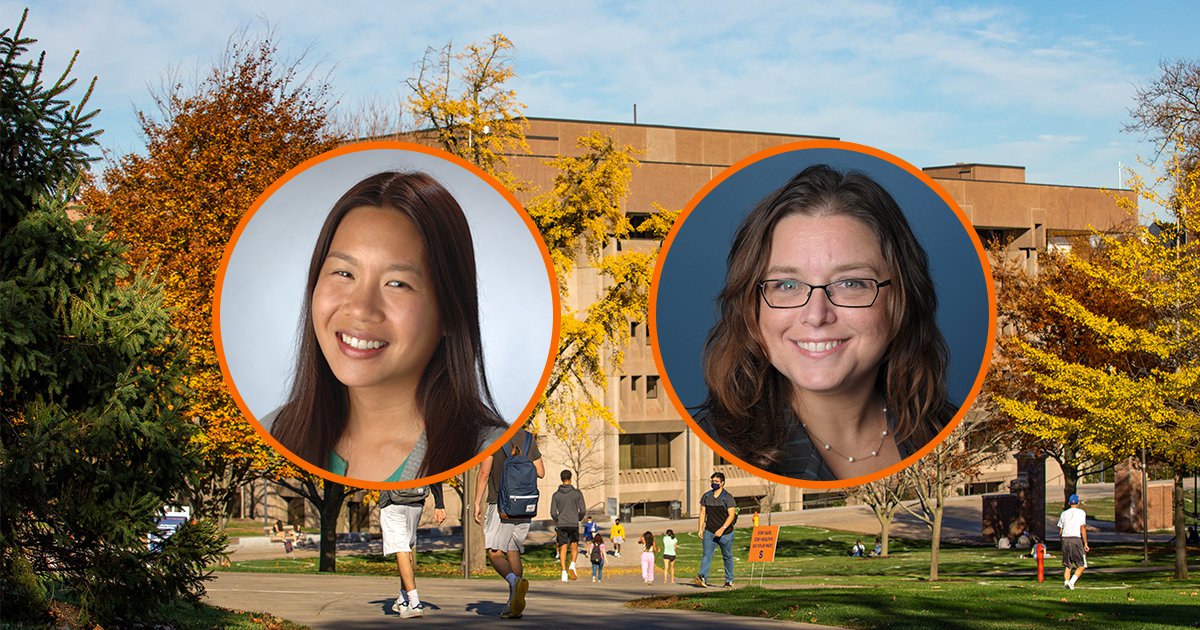 Syracuse University Libraries honored two outstanding staff members, Tarida Anantachai and Suzanne Preate, with the 2020 Distinguished Service Award at its annual "State of the Libraries" meeting, held virtually on December 1, 2020. The award is a 30-year tradition recognizes Libraries staff who have made a significant contribution to the Syracuse University community and Libraries. A cross-departmental panel of Libraries staff judge nomination entries and typically select one deserving member based on the criteria of dependability, flexibility, quality of work, dedication, and collegiality. This year the committee selected two winners. The Distinguished Service Award began as a way for Libraries staff to recognize one of their peers. Nominations are open to all Libraries employees and include a recommendation from the person's supervisor as well as at least two members of the University community.
Tarida Anantachai was appointed Interim Head of the Department of Learning and Academic Engagement amid the pandemic. Tarida has been a formidable, steady, and transformative leader at the helm of the Libraries' public-facing services, ensuring continuity of resources while protecting the well-being of staff and users. Coworkers describe Tarida as resourceful, thoughtful, attentive, generous, supportive, caring, and a dedicated librarian. Tarida's commitment to SU Libraries is deeply reflected in her support of students, always striving to create experiences that will be meaningful and motivational for student learners. Tarida has volunteered to serve as an advisor for new student organizations, played a pivotal role in fostering success of international students through the English Language Institute, and consistently creates interactive, safe, and informative spaces within the Libraries through displays, events, and outreach. This includes her extensive work in diversity and inclusion initiatives, leading the charge for programs like Asian American and Pacific Islander Heritage Month and working closely with campus partners like the Office of Multicultural Affairs and the LGBT Resource Center. Tarida's other leadership activities include currently serving as co-chair of the Libraries' Diversity and Inclusion Team  and as a fellow in the Association of Research Libraries Leadership and Career Development Program, and previously participating in programs such as the Minnesota Institute for Early Career Librarians and the American Library Association Emerging Leaders Program.
Suzanne Preate is the Digital Initiatives Librarian, a certified Phase One Cultural Heritage Specialist, and has been instrumental in curation of digital content. Her work across the Libraries, flexibility, creative thinking, and deep technical expertise in digital imaging, captioning, and beyond, demonstrate Suzanne's invaluable role. Coworkers expressed that Suzanne brings a balance of intelligence, decency, commitment to doing good work, and the best combination of persistence and curiosity. Suzanne's involvement with the Digital Library Program and SU Press, co-leading the team that launched SURFACE (Syracuse University's institutional repository), fostering connections with the Institute of Veterans and Military Families, La Casita Cultural Center, and the School of Architecture, serving as Chair of the SU Libraries Librarian Promotion Committee, instruction within the School of Information Studies, and dedication to the creation of accessibility initiatives and processes both within the Libraries and across-campus are some keystones of her outreach and influence. Suzanne has served the profession in a variety of roles with the American Library Association, Digital Library Federation, Eastern New York Association of College and Research Libraries, and on the executive board of Beta Phi Mu, Pi Lambda Sigma chapter. Finally, she  led the Libraries' participation in creation of the first City of Syracuse community-driven virtual black history museum collection, titled Our Stories, where Suzanne worked directly with residents of Syracuse in digitizing and preserving photographs, highlighting its black history.