Team Publishes Report on Distinct Academic Learning Communities at Syracuse University Libraries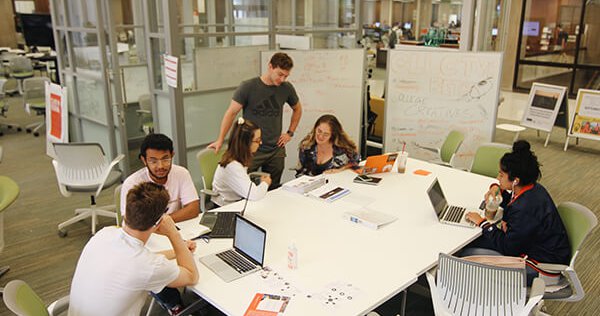 A cross-disciplinary team at Syracuse University Libraries recently published a report titled "Library Impact Research Report: Distinct Academic Learning Communities at Syracuse University Libraries" as part of the Association of Research Libraries (ARL) Research Library Impact Framework initiative. The team consisted of: Stephanie JH McReynolds, Librarian for Business, Management and Entrepreneurship; Peter Verheyen, Librarian, Research and Emerging Issues Analyst; Terriruth Carrier, Executive Director of Operational Excellence; and Scott Warren, Associate Dean for Research Excellence.
The team explored the impact of embedding three "distinct academic learning communities" within Syracuse University's Bird Library: the Blackstone LaunchPad; the Center for Learning and Student Success; and the Syracuse Office of Undergraduate Research and Creative Engagement. Results point to the value of the library as a central and interdisciplinary academic space for the communities, one that helps break down disciplinary borders by allowing community participants to more easily meet and collaborate with students from other schools and colleges. The impact of these learning communities in the Libraries was explored from multiple perspectives, including community directors, community participants, the Libraries' dean and staff.
A full copy of the report is available online at https://doi.org/10.29242/report.syracuse2022.