Virtual Living Library Event Scheduled for April 7, 2021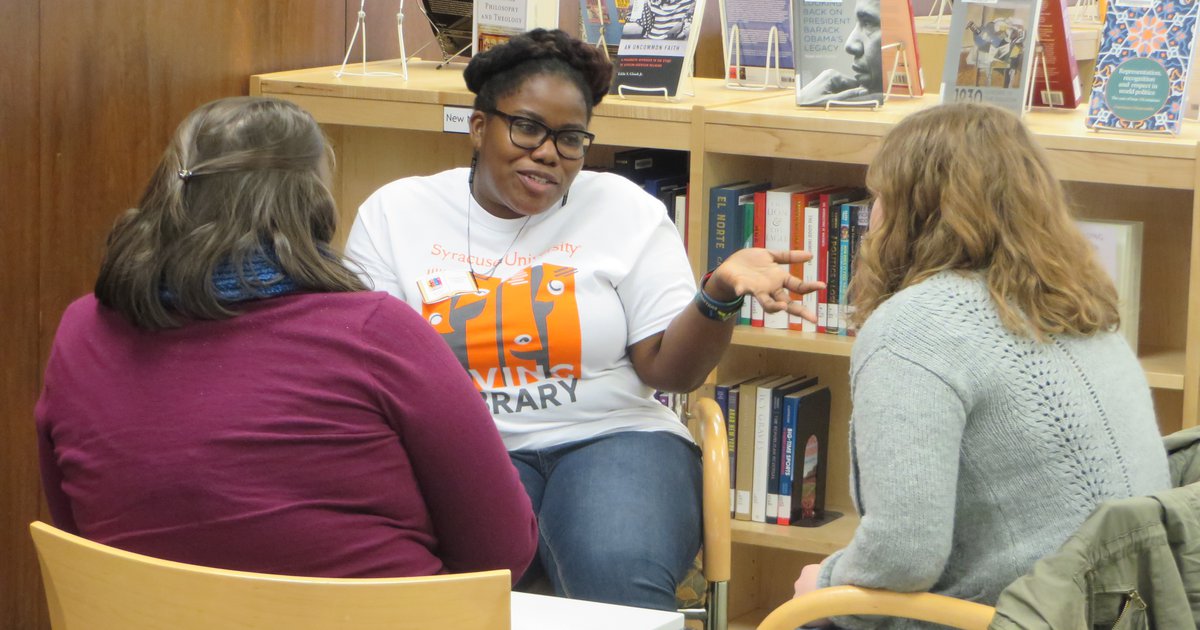 The Syracuse University Libraries will host its first virtual Living Library event on Wednesday, April 7 from noon to 5 p.m. on Zoom. During this event, "living books" representing a wide range of cultural backgrounds and life experiences will share their stories in conversation with individual "readers." The Syracuse University Living Library, now in its seventh year, is an event that encourages people from different backgrounds to talk with and learn from each other in a safe and supportive environment. This event takes place during National Library Week.
Living books—SU faculty, staff, and students from a variety of campus departments and programs as well as others from the local community—will engage in one-on-one conversations for 20 minutes at a time. Living books will share their experience on a variety of topics, including perseverance, creative expression, disability, LGBTQ identities, health advocacy, and Zen practice. For more information, visit our Living Library guide. This year's book titles include:
Braving Creatively and Unapologetically: How I Broke the Silence of Shame
Disability, Queerness, and Popular Culture
Disability in Comic Books and Popular Culture: "Cripping" the Comic Con
Diversity in Comics and Graphic Novels
Infant and Women's Health Issues
Kindness as a Human Super Power
Memoir of the First Liberians "Return to Africa"
Neuroqueer Culture
Oh, The Places You'll Go
Searching for Wonder: How a Naturalist Perceives the World
Serving in the Military with ADHD
Zen Practice, Here and Now
The Living Library is open to the campus community. Participants can reserve living books in advance for a specific time by completing the sign-up form by April 5. If you have difficulties using this form or wish to sign up via e-mail, please contact askasowi@syr.edu or tanantac@syr.edu. To request accommodations, please contact us by March 31.
The event is offered in partnership with the Center for Learning and Student Success (CLASS), Disability Cultural Center, Hendricks Chapel, Library and Information Science Student Association (LISSA) at the School of Information Studies, Library and Information Science Program at the School of Information Studies, Office of Diversity and Inclusion, Office of Interdisciplinary Programs and Outreach at the Burton Blatt Institute, Office of Multicultural Affairs, Office of Veteran and Military Affairs, Renée Crown University Honors Program, South Asia Center of Syracuse University, and Syracuse University Catholic Center.
This event is one of several Living Library events being planned throughout the region, with support from the Central NY Library Resources Council (CLRC)