Winter Intersession 2020 Hours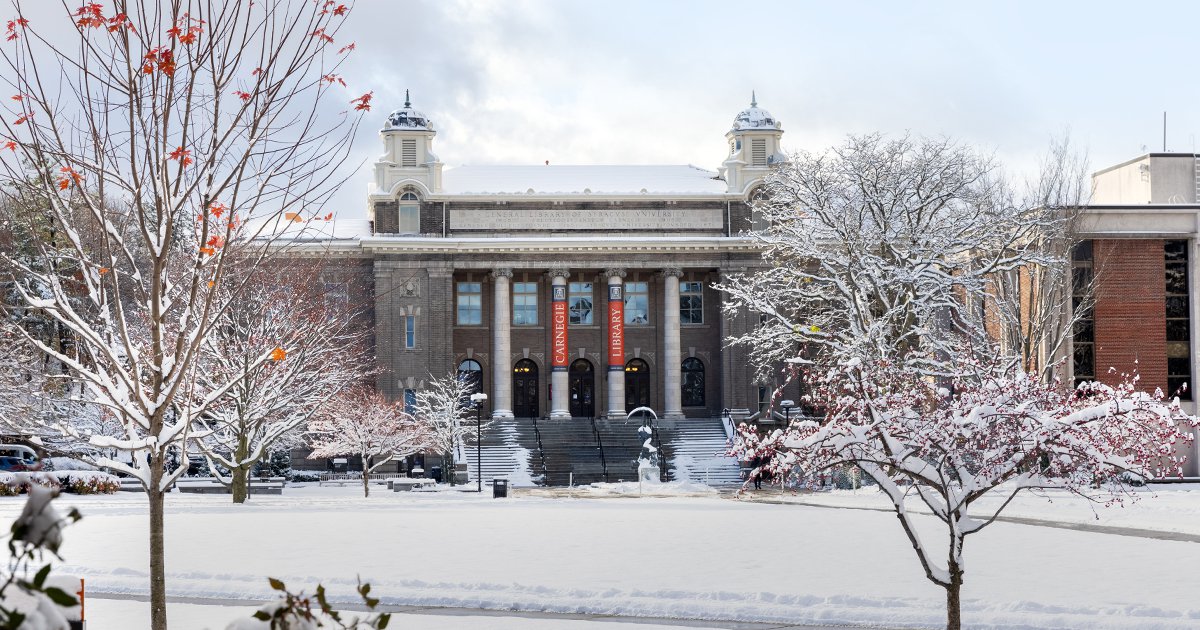 Syracuse University Libraries' intersession hours, from December 9, 2020 through Friday, January 23, 2021, are as follows:
Bird Library will be open Monday through Friday, 8 a.m. to 5 p.m. Faculty, staff, and students with a valid Syracuse University or SUNY-ESF ID will be able to enter the building through the Waverly Street entrance. Users will only be permitted to use the Lower Level, 1st, and 2nd floors. Access to the upper level floors will be limited to library staff and those few faculty members and PhD students with private, long-term study rooms.
Carnegie Library will be closed to users but accessible to library staff.
King + King Architecture Library in Slocum Hall will be closed but accessible to library staff.  Faculty, staff, and students  can coordinate accessing materials in King+King Library by contacting baopar@syr.edu.
During the intersession, all checkout and reference support will be provided remotely, including to users in Bird Library. While service desks will be closed,  online and virtual services will continue.
Virtual service desk hours will be Monday through Thursday from 8 a.m. to 12 midnight, Friday from 8 a.m. to 6 p.m., Saturday from 12 noon to 6 p.m., and Sunday 12 noon to 12 midnight. Reference support can be accessed through live chat, text 315.464.0744, email libref@syr.edu, or phone 315.443.4083. Reference support is available 24 hours a day, 7 days a week via chat. You may also contact the subject librarians to make a virtual consultation appointment.
The Libraries will be closed during Orange Appreciation Days from December 24 through January 1.  Email (libref@syr.edu and circhelp@syr.edu) and phone messages (ext. 4083 and ext. 5727) will be checked periodically.
Patrons with a valid SU or SUNY-ESF ID can request and borrow items from our physical circulating collections at Bird, Carnegie, or King + King Architecture Library through the library's catalog. Items will be held for contactless pickup at Bird Library by appointment only. The Libraries is also providing UPS delivery to faculty and student residences. Scanning and electronic delivery of book chapters and articles remains available.