Carnegie Library Team Rooms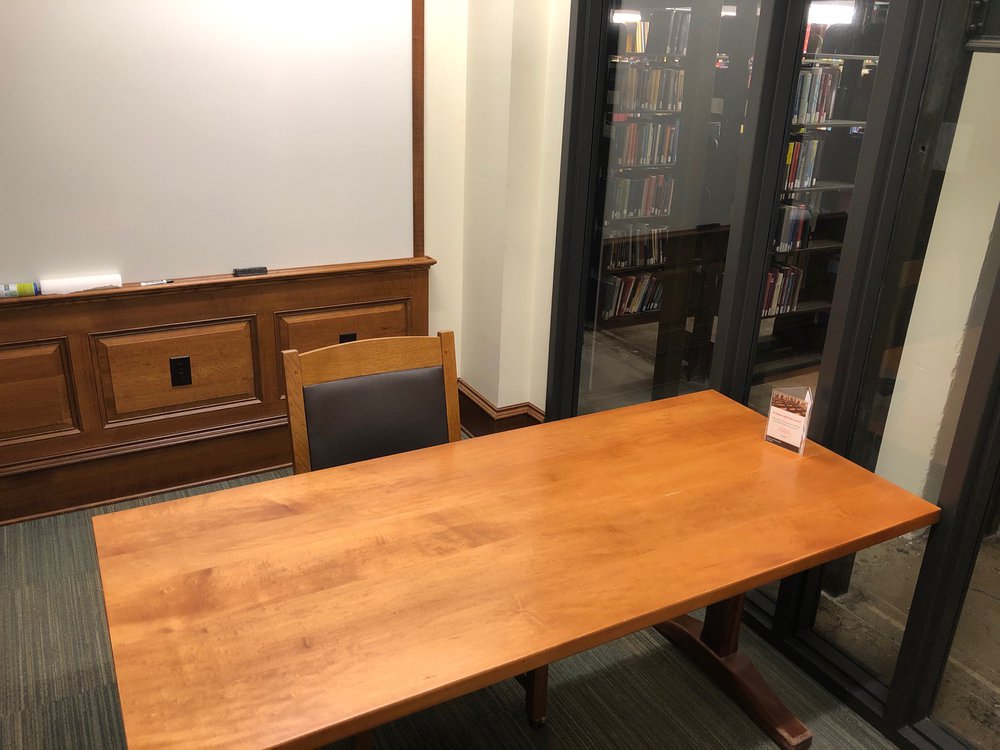 Groups of 2 to 4 SU or SUNY-ESF students can reserve a room to work on group projects, practice presentations, conference virtually, conduct job interviews, research or study as a group.
Rooms should not be used for meetings for clubs, teams, fraternities and sororities, watching a video/movie for entertainment, non-academic audio recording or listening, or other recreational or social purposes.
Availability
Rooms are available during regular library hours.
Check out period is 3 hours maximum per group, per day.
Room renewals are not permitted.
Users can reserve a room for immediate or future use.
Room keys are checked out only to the person who submitted the reservation request at the 2nd floor Check Out desk.
Room keys must be checked out within 15 minutes of the reservation time, or the room may be assigned to another group.
Students with a block on their library account will not be able to checkout a team room.
Equipment
Table and chair
Outlet and internet connection
Whiteboard
Users can check out markers and cleaning spray at the 2nd floor Check Out desk
Policy
Keys must be returned 15 minutes prior to the library closing.
There is a 25¢ per-minute fine for late return of keys with no grace period.
If the key is lost, a $60 replacement fee plus a $15 processing fee will be charged to the user's account.
Room doors lock automatically so users should take the key with them whenever leaving the room.
Immediately report any problems or issues with the room or equipment to staff at the Check Out desk. User may be held responsible for damages if issues are not reported.
Remove all trash and recycling when you leave; report any cleaning issues to the Check Out desk at (315)443-2160.
Users will be held responsible and charged for any damages, loss, or vandalism to the room. Charges will be added to the student's bursar account.
The Libraries is not responsible for damage to or loss of any personal property or items left in the room.
All Libraries' policies apply to use of the Team Rooms.
The Libraries reserves the right to revoke privileges for those who do not use the space according to policies.
Room Capacity: 4