Hillyer Room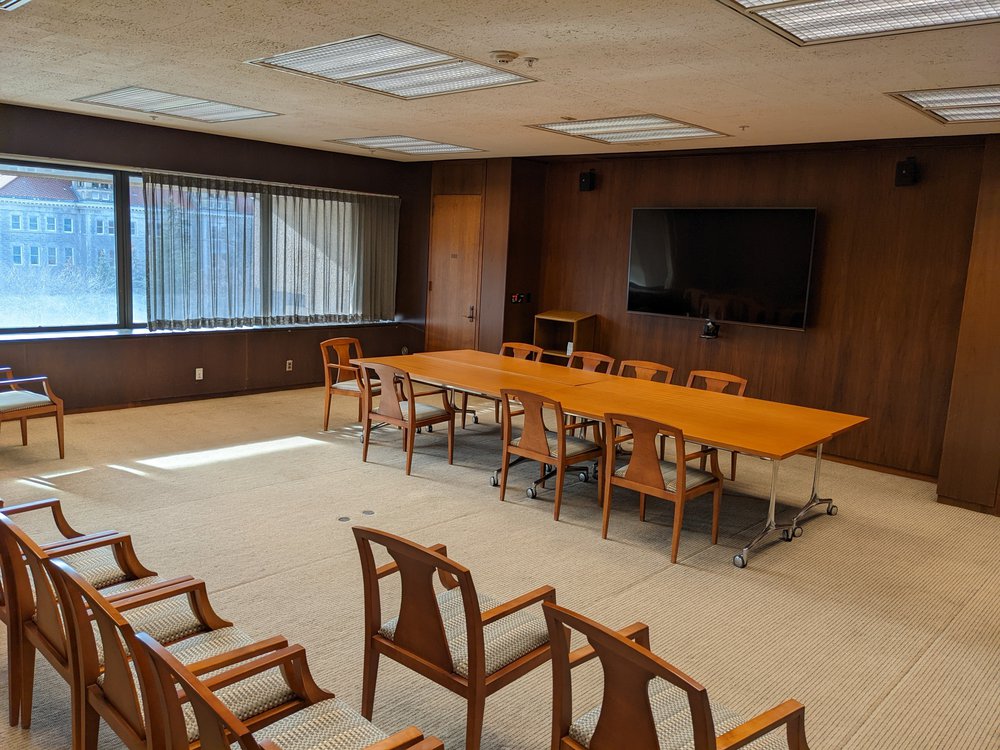 Hillyer Room 606 in Bird Library is available for use by Syracuse University faculty, staff and sponsored guests for scholarly or academic events. Priority for use of the room is:
Events with anticipated group size of 30 or less that occur on weekdays during the available hours detailed below, including set-up and clean-up time.
Hybrid online/in-person events.
In the event of multiple requests for the same date/time, the room will be assigned on a first-come, first-served basis.
Availability
Generally available 8 a.m. to 4:30 p.m. on Mondays, Tuesdays, Thursdays, and Fridays, and 8 a.m. to 6:30 p.m. on Wednesdays.
Functions requiring media equipment must allow 15 minutes for set-up and take-down before and after the event.
Equipment
All equipment is set up for self-service.
Lapel and wireless hand-held microphone
Blackout curtains (note that door window glass cannot be covered)
Assistive listening device (Listen Display Receiver)
AV rack (Located in the closet nearest the windows, which can be unlocked using the same key that opens the room. The rack should not be moved)
Wireless and wired network
Presenter PC
Wall-mounted media controller
Ethernet, HDMI inputs
Computer speakers
HD display screen
Wireless keyboard and mouse
Room microphone
Web cam
Conference phone
Laser pointer
Cell phones, tablets, laptops, and PCs are among the different devices that can be connected and viewed on the screen (adapters for all variations are not provided)
Policy
Standard Libraries classroom meeting room policy applies.
The event coordinator is responsible for setup, operation and shutdown of the equipment. The event coordinator is responsible for ensuring that all food and beverages are removed or properly disposed of at the end of the event. The event coordinator should return furniture to original configuration at the conclusion of the meeting.
Flexible floor plan allows for varied seating arrangements. The standard furniture layout includes chairs in rows, and four tables with wheels that may be reconfigured as needed.
Beverages in spill-proof containers are permitted. Catered events are permitted only if catered by Syracuse University Catering Services. A catering staff member must be present if a sterno or other open flame food warming system will be in use.
In case of a building evacuation, all room occupants must exit the building from the nearest stairwell. All elevators are disabled during emergency evacuations. The nearest emergency exit is to the left upon exiting the room. An additional emergency exit is at the opposite end of the corridor, through the wooden double doors adjacent to room 605.
To cancel a reservation contact Libraries Administration at librooms@syr.edu.