Architecture and Industrial Design
Special Collections Research Center
Page featured image content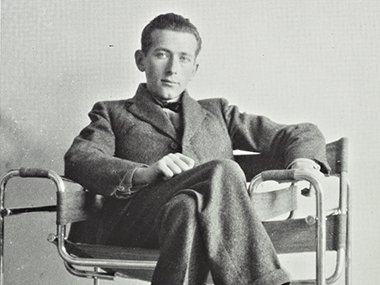 Page main body content
In the late 19th and early 20th centuries, architects in Europe and America struggled to design buildings suitable for modern, industrial society. They experimented with new materials such as steel and concrete and developed new building typologies like the skyscraper. The heart of the SCRC's architecture collection consists of the papers of a number of European-born architects who immigrated to the United States in the 1920s and 1930s, most notably Pietro Belluschi, Marcel Breuer, and William Lescaze. These men helped to define mid-century American modernism through buildings such as the Pennsylvania Savings Fund Society Building, the Pan Am building, and the Whitney Museum. On a smaller but no less important scale, industrial designers strove to give modern form to everyday objects ranging from cameras to kitchen mixers. The papers of important industrial designers such as Russel Wright and Walter Dorwin Teague are complemented by those for professional organizations like the Industrial Designers Society of America.
University Archives serves as the repository for a handful of collections related to graduates and professors of the School of Architecture, including the longtime dean of the school, Werner Seligmann (1976 - 1992). Learn more about the collections at University Archives.
Archival Materials
See all architecture...
See all industrial design...
Digitized Materials
The Marcel Breuer Digital Archive represents a collaborative effort headed by Syracuse University Libraries to digitize over 30,000 drawings, photographs, letters and other materials related to the career of Marcel Breuer, one of the most influential architects and furniture designers of the twentieth century.
Audio and Visual Materials
Many of the architecture and industrial design collections contain visual materials. In particular, see:
The George M. Goodwin Collection consists of five audiocassette tapes featuring oral history interviews about Marcel Breuer with noted architects I. M. Pei, Edward L. Barnes, and Max Abramovitz. It includes CDs with digitized versions of tapes.
The Richard Neutra Collection contains 144 reels of audio tape of Neutra's lectures and a filmed interview with the architect.
Rare Books and Printed Materials
The collection includes significant theoretical texts in the history of architecture ranging from Renaissance treatises like Leon Battista Alberti's De re aedificatoria (On the Art of Building) and Palladio's I quattro libri dell'architettura (Four Books on Architecture) to 19th- and 20th- century works such as William Morris's lecture to the Arts and Crafts Exhibition Society entitled "Gothic Architecture" and the 1910 Wasmuth Portfolio, which introduced European architects to the work of Frank Lloyd Wright. SCRC also possesses a full run of Gustav Stickley's magazine the Craftsman and a partial run of Ernst May's journal Das neue Frankfurt.
Useful search terms to locate these items in the catalog include "architecture," "decoration and ornament," "designs and plans," "domestic architecture," "public buildings," "school buildings," "theaters," "church architecture," "landscape architecture," "city planning," and "architecture and society."
Programs and Events
Assembly-line Architecture: Repetition and Innovation in the Work of Marcel Breuer (Fall 2012)