Cartoons and Cartoonists
Special Collections Research Center
Page featured image content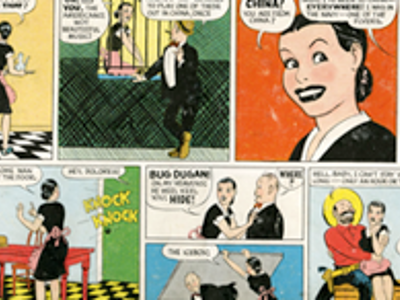 Page main body content
Home to over 200 manuscript collections consisting primarily of original artwork used for daily comic strips and editorial cartoons. In addition to printed materials that document particular cartoon titles, we hold a few collections of sports cartoons and magazine cartoons, as well as histories of cartooning and cartoonists.
Popular favorites such as Bud Fisher's Mutt and Jeff, Mort Walker's Beetle Bailey, and Bil Keane's Family Circus are represented in our holdings, along with sequential continuity (soap opera) strips such as George Wunder's Terry and the Pirates and Paul Norris's science fiction strip Brick Bradford. Some collections contain correspondence with fans, political figures, and other cartoonists, while others contain printing proofs and other primary source materials. Our editorial cartoon collections feature the work of Pulitzer Prize-winning cartoonists and artwork from newspapers across the United States. These collections enable the investigation of particular themes and eras such as the Cold War, the Vietnam War, and the Civil Rights Movement. SCRC's holdings are especially strong in works from the 1950s and the 1960s; however, examples of late-nineteenth-century cartoons and early comic strips are also available for research.
Archival Materials
Audio and Visual Materials
Many of the cartoon collections include audio and visual materials. In particular, see:
The National Cartoonists Society Interviews contain audio recordings of interviews with more than twenty notable cartoonists, both individually and in panel formats. Of particular interest are the panels on Pulitzer Prize winners and Russian cartoonists. In addition, there are individual interviews with Mort Walker (Beetle Bailey), Milt Caniff (Terry and the Pirates and Steve Canyon), Otto Soglow (The Little King), Jimmy Hatlo (They'll Do It Every Time), sports cartoonist Willard Mullin, and Pulitzer Prize winners Bill Mauldin, Herbert Block, Rube Goldberg, and many others.
The Vernon Greene Papers contain audio recordings of speeches and television appearances.
Rare Books and Printed Materials
Printed materials related to the history of cartooning feature periodicals, contemporary and period compilations of particular strips or cartoonists, and histories of cartooning. Periodicals available for research include Cartoonist Profiles, the newsletters of the National Cartoonists Society, and limited runs of Inklings and Cartoonews. In addition, representative holdings related to underground comics include Robert Crumb's Zap Comix, Gothic Blimp Works, and a small collection of "Tijuana Bibles." Researchers may also be interested in volumes of Shadow Comics, produced by Street and Smith in the 1940s.
Useful search terms to locate these items in the catalog include "cartoons," "comix," "American wit and humor," "caricatures," "cartoonists," "comic books," "comic strips," "editorial cartoons," "red cartoons," "underground comic books," and "erotic comic books."
Programs and Events
People Are My Landscape: Social Struggle in the Art of William Gropper (Fall 2005)
Draw Your Own Conclusion: Political Cartooning Then and ? (Fall 2005)