A Goodly Heritage of Study: The Portfolio Club of Syracuse
Special Collections Research Center
Page featured image content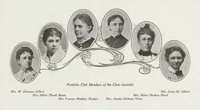 Page main body content
Bird Library
01-23-2009 to 05-08-2009
On display are the archives of a still-thriving women's study club that was formed on October 30, 1875, in Syracuse, New York. The exhibition, which emphasizes the years 1875 to 1950, includes annual-program booklets, many of them finely crafted. Also on display are meeting minutes, clippings, photographs, film footage of a 1935 gathering, and other club documents.

The Portfolio Club exemplifies a post-Civil War movement in which many thousands of middle-class women came together to educate themselves in a society that restricted women's access to institutions of higher learning. This club began a few weeks after the Association for the Advancement of Women held a congress at the Wieting Opera House in downtown Syracuse. At these congresses, which took place in many American cities, Julia Ward Howe and other presenters encouraged women to form study clubs for self-culture.

Nine young women founded the Portfolio Club, with guidance from Mary Dana Hicks, their art teacher. Though they began with a focus on art, in the middle 1880s they expanded their scope to include literature, current events, history, performing arts, and many other subjects. Members have met regularly from October through April to read their papers on a topic assigned by each year's president.