Assembly-line Architecture: Repetition and Innovation in the Work of Marcel Breuer
Special Collections Research Center
Page featured image content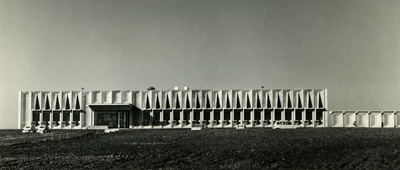 Page main body content
Bird Library
09-13-2012 to 01-11-2013
Curated by Teresa Harris, architectural historian and project coordinator for the Marcel Breuer Digital Archive, it showcases original drawings, photographs and documents from Breuer's long career.
Like many modern architects, Marcel Breuer found inspiration in the repetition characteristic of industrial processes, often relying on modular units or a standard kit of parts to create his buildings and interiors. The limits imposed by these systems stimulated subtle formal and spatial innovation so that no two designs were exactly alike, despite common components.
According to Ms. Harris, Breuer conceived of standardization and experimentation as the two necessary polarities of design that must be balanced in any given project. The exhibition is arranged thematically, highlighting the interplay of those polarities in Breuer's modular furniture, his palette of colors and materials, his designs for prefabricated dwellings and his later reliance on precast concrete panel facades.