AVIDA DOLLARS: Salvador Dalí, Joseph Forêt, and the Three Most Expensive Books in the World
Special Collections Research Center
Page featured image content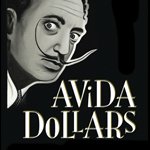 Page main body content
Bird Library
04-22-2016 to 09-09-2016
Opening Reception: Friday, April 22 / 4:00–5:30 p.m. / Special Collections Research Center, Bird Library, 6th floor gallery
Symposium: Friday, April 22 / 8:30 a.m.–4:00 p.m. / Peter Graham Scholarly Commons, Bird Library, 1st floor
Between 1956 and 1963, Salvador Dalí collaborated with the Parisian publisher Joseph Forêt to produce the three most expensive books in the world. The earliest of these books is Pages Choisies de "Don Quichotte" (1957). It contains selections of Cervantes's text with twelve illustrations by Dalí. These are the first lithographs Dalí produced. They number among his best, most original, and most influential prints. To create them, Dalí combined opposites: chance and precise drawing. He called one of his new techniques "bulletism," which involved randomly shooting paint-filled bullets against lithographic stones.  He then superimposed realistic pictures onto this chaotic first background. "Copy A" of Don Quichotte was priced at fifteen million old francs and included four unique sets of prints.
The second book that Dalí and Forêt produced is the most extravagant example of the burst of creativity that resulted from their collaboration. It appeared in 1961 when Forêt unveiled L'Apocalypse, his handcrafted 463-pound "livre-monument." Dalí designed its bejeweled bronze cover, and contributed three striking illustrations. The book was valued at the time at one hundred million old francs; today, it could be worth between twenty-five and seventy-five million dollars. It is now in a regional art museum in France. Forêt printed seven simplified copies of this behemoth for, in his words, "7 collectionneurs les plus fervents du monde entier." The most expensive one sold for twenty million old francs.       
In 1950, Dalí began to paint watercolor illustrations for the first illustrated edition in color of The Divine Comedy. It was to be published by the Italian state press in 1965, in honor of the seven-hundredth anniversary of Dante's birth. The public learned of the project in 1954, and expressed its displeasure that a foreigner, especially one as pretentious as Dalí, had been officially entrusted to illustrate its national literary classic. A new Italian government canceled the project in 1958. Dalí asked his friend Joseph Forêt to take it over. The Divine Comedy was published jointly by Forêt and Les Heures Claires in 1963. Several artisans spent four and one-half years carving the thirty-five hundred blocks necessary to reproduce Dalí's original watercolor illustrations for the book. Each print required between twenty and thirty-seven separate single-color blocks. Dalí considered his Dante project to be one of his most spiritual, intellectual, and innovative masterpieces, and over the years, his admirers have concurred.
This exhibition is curated by Harold Jones, Professor Emeritus of Spanish at Syracuse University.
Image of Salvador Dali derived from an original work by Philippe Halsman.