Context: Reading the Photography of Margaret Bourke-White
Special Collections Research Center
Page featured image content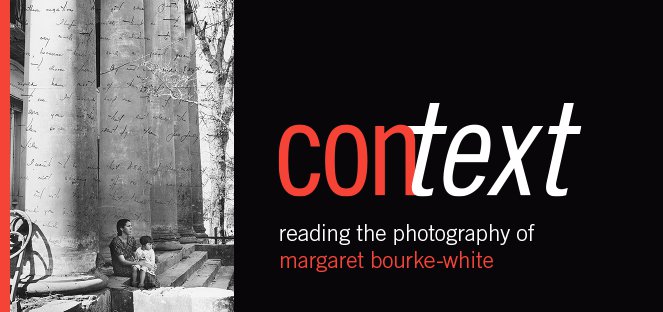 Page main body content
Bird Library
08-19-2014 to 01-16-2015
Margaret Bourke-White (1904-1971) was a celebrity behind, and in front of, the camera. As a photographer for Life magazine from the 1930s through the 1950s she documented unforgettable moments—African-American flood victims in Louisville, Kentucky, standing in a bread line beneath a banner that reads almost mockingly "There's No Way Like the American Way"; just-liberated survivors of the Buchenwald Concentration Camp returning the camera's gaze under an eerily cinematic light; Mahatma Gandhi sitting cross-legged on the floor reading, spinning wheel in the foreground. Bourke-White's photographs helped shape the way millions of Americans experienced the Great Depression, the Second World War, and the world that followed.
In front of the camera she cultivated an image of herself as fearless, undaunted in pursuit of her "shot," and fashionable, donning fine clothes and a coquettish smile. Oscar Graubner's famous 1934 photograph of New York City's Chrysler building shows her perched atop an Art Deco gargoyle staring down through the lens of her view camera at the street 61 stories below. A 1937 magazine profile called her the "camera queen" and positioned a well-coiffed Bourke-White with her camera in front of an industrial train yard. In 1959, when she was battling Parkinson's Disease (it would eventually claim her life in 1971), Life ran a photo-essay on her pursuit of a cure.
After three decades in the public eye Bourke-White began to write her memoirs in the early 1950s. When Portrait of Myself finally appeared in 1963, she had already published ten books, countless essays, and been the subject of many interviews. In fact, but for the occasional gallery exhibition, text had always surrounded Bourke-White's photographs, from her early days as a commercial photographer capturing the streamlined grace of the Pierce Arrow automobile in a sales brochure, to her profile of Otis Steele for Fortune magazine, to her pioneering 1937 collaboration with writer (and future husband) Erskine Caldwell, You Have Seen Their Faces. This exhibition explores how text "framed" the photography of Margaret Bourke-White and, ultimately, how she sought to transcend the limits of the medium that made her famous.
This exhibition complements Margaret Bourke-White—Moments in History 1930-1945, on view at Syracuse University Art Galleries from August 19 to October 19, 2014. Curated by Oliva Maria Rubio of La Fábrica (Madrid, Spain) that exhibition travelled to venues in Germany, the Netherlands, and Denmark before coming home to Syracuse.
The Special Collections Research Center, Syracuse University Libraries, holds the Margaret Bourke-White Papers, which includes thousands of original photographs and negatives.