Covering Photography: Imitation, Influence, and Coincidence
Special Collections Research Center
Page featured image content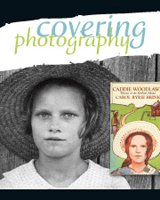 Page main body content
Bird Library
01-18-2010 to 05-31-2010
The Special Collections Research Center's spring 2010 exhibition is entitled Covering Photography: Imitation, Influence, and Coincidence, by guest curator Karl Baden. Baden is a Boston-based photographer and member of Boston College's Fine Arts Department. In 2005, Baden founded the Web-based archive Covering Photography (www.coveringphotography.com), based on his own book collection. The exhibition previously appeared at the Boston Public Library in fall 2009.
Baden writes, "Creative individuals from every discipline have regularly appropriated the ideas of others, at least as a foundation to build on. . . .This exhibition compares the cover art of selected books with the photographs from which they are, or may be, derived. The books were chosen not because of their content, but because the images on their jackets reference, in some way, another image . . . a photograph whose significance or popularity has earned it, or its maker, a place in the history of photography."
According to Baden, "The connection between book cover and photograph may be obvious—an instance of imitation or even blatant appropriation. In other cases it is more a question of the designer or illustrator being subtly, perhaps even unconsciously, influenced by a particular photographer or photograph. Finally, there may be no direct, or even indirect, trail of influence; the idea or visual trope may just be part of our collective cultural consciousness."
The exhibition is free and open to the public.
Gallery Talk
Speaker: Karl Baden, Exhibit Curator
Time: Tuesday, March 2, 2010, 5 p.m
Location: 6th Floor, Bird Library