Luminous Construction: The Photography of Howard Bond
Special Collections Research Center
Page featured image content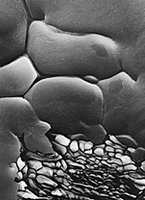 Page main body content
Bird Library
09-08-2009 to 01-14-2010
Time: September 10, 2009 5 p.m.
Location: Peter Graham Scholarly Commons
1st Floor, Bird Library
Syracuse University Libraries' Special Collections Research Center has mounted an exhibition entitled Luminous Construction: The Photography of Howard Bond. On display are photographs drawn from Bond's 22 portfolios, which were donated to the Library in 2008 by alumnus Carl Armani '60 and his wife, Marcy. The portfolios contain dramatic landscapes and abstract close-ups taken between 1974 and 2005.
A student of Ansel Adams, Imogen Cunningham, and Brett Weston, Howard Bond is himself a master of large-format photography. His works have been exhibited in some 60 single-artist and 40 group shows, and examples can be found in 34 permanent collections, including the Bibliothèque Nationale (Paris), the Victoria and Albert Museum (London), the University of Michigan Museum of Art, and the San Francisco Museum of Modern Art. Bond is the author of two books, Light Motifs (1984) and White Motif: The Cyclades Islands of Greece (1991), and has contributed more than 100 articles to Photo Techniques magazine.
The exhibition is held in conjunction with the Syracuse Symposium, which has chosen "light" as its 2009 theme. A semester-long festival celebrating the interdisciplinary humanities at SU, Syracuse Symposium is organized and presented for The College of Arts and Sciences by the SU Humanities Center.