Student Voices in Print
Special Collections Research Center
Page featured image content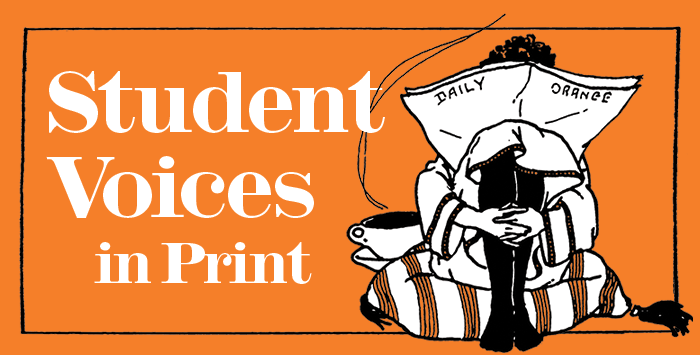 Page main body content
Bird Library (6th Floor), Bird Library (1st Floor)
02-07-2022 to 12-01-2022
Syracuse University holds a rich multitude of student voices, both now and throughout its history of campus life. Students have expressed their ideas, perspectives, and creativity through hundreds of campus publications. Encompassing both individuals and groups, student voices have advocated for a cause, shared inspiration, explored their passions, developed their talents, and engaged with the University community. Through the printed medium, students have learned to be leaders and artists and to express pride in their personal and collective identities.
Student publications have been part of Syracuse University since its early days. The University Herald, the earliest known student publication on campus, was first printed in 1872. For 150 years, Syracuse University students have continued to publish newspapers, magazines, and newsletters covering a range of topics, including politics, popular culture, humor, social issues, and campus news.
Using the power of print, Syracuse University students have found their voices as activists, poets, journalists, artists, and members of communities. Projecting those voices across campus has empowered them and helped prepare them for an ever-changing world. Preserving these voices in the University Archives as part of Syracuse University's history acknowledges their value and hopefully inspires students of today and tomorrow to build upon this legacy in traditional and modern platforms.
Curated by University Archivist Meg Mason.