We Remember Them: The Legacy of Pan Am Flight 103
Special Collections Research Center
Page featured image content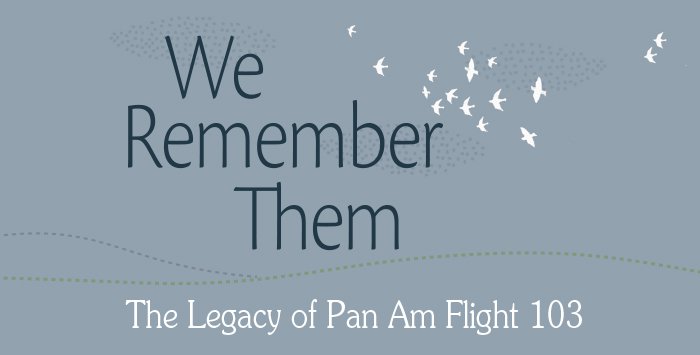 Page main body content
Bird Library (6th Floor)
09-13-2018 to 08-16-2019
A simple phrase - "we remember them" - encapsulates the 30-year saga of the bombing of Pan Am Flight 103 over Lockerbie, Scotland on December 21, 1988. The bombing and crash claimed the lives of all 259 individuals on board the plane and 11 residents on the ground. Thirty-five Syracuse University study abroad students returning home from a semester in London, England and Florence, Italy were among those whose lives were lost.
It was just 2:03 p.m. local time at Syracuse University when Pan Am Flight 103 was destroyed in the skies over Lockerbie claiming the lives of all 259 individuals on board the plane and 11 residents on the ground. Campus was nearly empty as exam week was ending and most of the nearly 15,000 students had departed for the winter intersession. Upon hearing the news, those students, faculty, and staff who remained on campus found their way to Hendricks Chapel to mourn and find solace. University staff went to work confirming the roster of returning study abroad students whose lives had been lost. They would work countless hours over the coming days and weeks, following news reports and supporting the victims' families.
A University-wide memorial service was held in the Carrier Dome on January 18, 1989, following the return of the campus community for the spring semester. At this service, Chancellor Melvin Eggers assured the families their "sons and daughters will be remembered at Syracuse University so long as any of us shall live and so long as the University shall stand." Thirty years on from that tragic day, the University has not only held true to that promise, it has opened its doors to the families and communities of all 270 victims.
We Remember Them: The Legacy of Pan Am Flight 103, consisting of materials from the Pan Am Flight 103/Lockerbie Air Disaster Archives, documents not only the terrorist act itself but the lives of those lost and the ways in which they are remembered.
Exhibition curated by Vanessa St.Oegger-Menn, Pan Am 103 Archivist and Assistant University Archivist.