106 Walnut Ave.
Special Collections Research Center
Page featured image content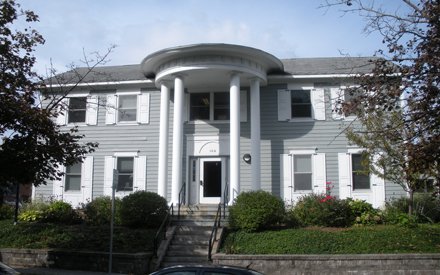 Page main body content
Constructed: 1887
Cost: $5,500
Built for: Dr. Wellesley Perry Coddington, professor of Greek and Ethics
Architect: Baxter & Buell, Syracuse
Materials :Wood
Space: 6,800 square feet; 2 stories and attic
Purchased by SU: 1944
Cost: $8,570
Renovated: 2002
Cost of Renovation: Approximately $295,000
Notes: Built as a private home for Dr. and Mrs. Wellesley P. Coddington, the property originally included a carriage house. The interior of the home was finished with white and Georgia pine. In 1944, SU purchased the property from the Coddington's son, Rev. Herbert G. Coddington. It first served as student residences, Parsons Cottage for women and Whitman House for men, then the home of Alpha Omicron Pi Sorority. In 2002, the house was extensively renovated to become the new home of the Division of International Programs Abroad (DIPA), later known as SU Abroad.