113 Euclid Ave.
Special Collections Research Center
Page featured image content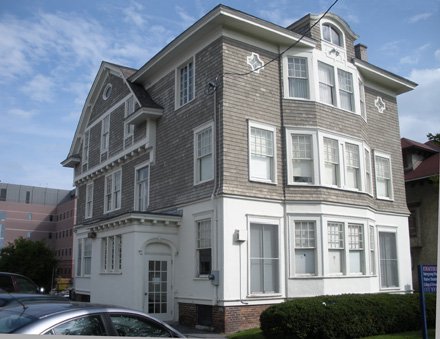 Page main body content
Construction Began: Spring 1911
Dedicated: November 16 and 17, 1911
Building Occupied: September 1911
Construction Cost: $16,000
Funding: Financed by trustees of Gamma Phi Beta Sorority, and alumnae members Mrs. Seth D. Baker, Mrs. Ernest I. Edgcomb, Mrs. Gordon Hoyt, Mrs. William J. Fredericks, and Mrs. A. Fish
Architect: Charles D. Wilsey
Materials: first story - cement plaster in metal lath, second and third stories - wooden shingles
Style: Colonial
Acquired by SU: Approximately 1971
Space: 39' x 69' structure with 2-story front porch; when originally constructed, held a large living room with fireplace, glass-enclosed music room, large dining room and kitchen with butler's pantry, center staircase, 11 bedrooms and a chapter room; the basement held a heating plant, laundry, storage and trunk rooms. The plans called for the living room, dining room and halls to be finished in chestnut, the music room in curly birch and the remainder of the house in cypress.
Notes: Built as the chapter house for Gamma Phi Beta Sorority and originally numbered 117; original paint scheme was light and dark brown, the colors of the sorority; in 1938 was sold to Phi Sigma Sigma Sorority; acquired by SU in approximately 1971; as of 2011 housed a number of offices including African American Studies Graduate Office, Office of Multicultural Affairs and Native Student Programs, and SU Internship Program.