Archbold Gymnasium
Special Collections Research Center
Page featured image content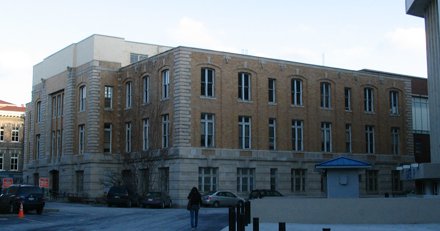 Page main body content
Cornerstone Laid: March 24, 1908
Architects for Original Building: Professors Frederick W. Revels and Earl Hallenbeck
Contractors: Consolidated Engineering and Construction Company of New York City
Cost: $400,000
Building Officially Occupied: December 17, 1908
First Classes Occupied: March 1, 1909
Fire Nearly Destroyed Building: January 12, 1947
Architects for New Section: Lorimer Rich and Robins Conn
Reconstructed Section Dedicated: February 12, 1952
Cost: $3 million
Renovation: 1989
Cost: $1.8 million
Notes: In 1907 the Trustees agreed to erect a gymnasium at a cost of $200,000 with the money to be raised by placing a mortgage on the University Block. The cost was soon revised to $300,000. The cornerstone laying took place on March 24, 1908, and the gym was officially opened on December 17, 1908 with the Junior Prom. The first classes were held in the new gym on March 1, 1909. In June 1909 John D. Archbold gave the University $300,000 to cancel the mortgage on the University Block.
The gymnasium building measured 150' by 210' with the gymnasium room measuring 100' by 205'. It contained a swimming pool, rowing tank, baseball cage, and an indoor track measuring twelve laps to the mile. Bowling alleys were installed in the fall of 1911 through the generosity of John D. Archbold.
In January 1947 the building was almost completely destroyed by fire. After the fire, most of the old superstructure still standing was demolished, except for the north wing, the least damaged in the blaze. The north wing was reconstructed and remodeled starting in the spring of 1948. By February 1949 the Athletic Department returned to the building. The reconstructed rear section was not completed until1952.
In October 1989, the building's locker rooms, stairways and exit controls were renovated concordant with the opening of neighboring Flanagan Gym. Archbold connected to Flanagan via 110' glass-enclosed bridge.