Goldstein Student Center
Special Collections Research Center
Page featured image content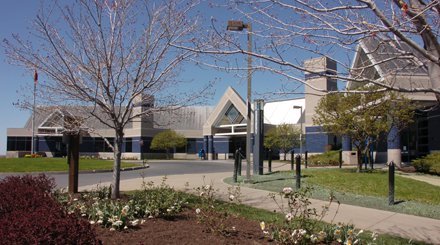 Goldstein Student Center, SU Photo & Imaging RS 8935
Page main body content
Plans Announced: May 1989
Groundbreaking: May 30, 1989
Occupied: August 28, 1990
Dedicated: November 9, 1990
Named For: Ann (Lubin) Goldstein, Class of 1948, and Alfred Goldstein, SU trustee 1969-1998, Honorary degree 1985 and Honorary trustee, 1998
Cost: $7 million
Funding: $2 million donation from Ann and Alfred Goldstein
Architects: Schleicher-Soper of Syracuse, NY
Contractor: Hueber-Breuer, Inc.
Location: Skytop Road, South Campus
Space: 33,000 square feet
Notes: Built to serve students living on South Campus, its main floor contains administrative offices, lounge, meeting room, and a satellite branch of the University Bookstore. The lower level of the building has a dining area, laundry, and game room, as well as a health clinic and fitness center.