Greenberg House
Special Collections Research Center
Page featured image content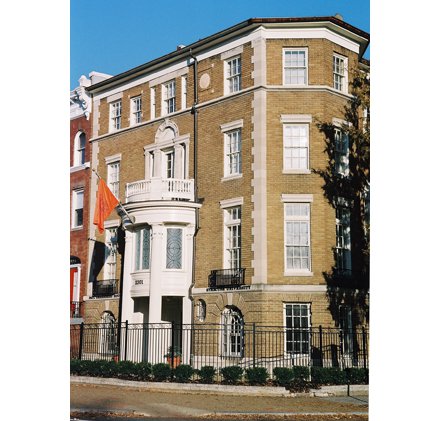 Greenberg House, photo taken by Karen Ruckman
Page main body content
Constructed: 1912
Architect: E. Dwight Ryerson of Marsh & Peter
Materials: Brown brick and masonry
Style: Beaux Arts Classical
Space: 7,700 square feet
Location: 2301 Calvert Street N.W., Washington, D.C.
Purchased by SU: 1988
Funding: Campaign for Syracuse, including $1 million donation by Paul Greenberg
Cost of Purchase and Renovation: $2.5 million
Renovation Architect: Darrel D. Rippeteau Jr., S.U. '73
Renovation Contractors: Whalen and Purdy, Inc.
Dedicated: March 27, 1990
Dedication Speaker: U.S. Senator Daniel Patrick Moynihan
Named For: Paul Greenberg, Class of 1965, SU trustee
Notes: Originally the home of Turner A. and Elizabeth Wickersham, the building later served as restaurant, night club, nursing home and art gallery. The four-story interior is in the "piano nobile" style in which the first floor serves as the reception area and the second floor as the main activity area. The third and fourth floors contain office and meeting spaces. The building's two-story entrance portico was fully rebuilt during renovations. Curved etched glass in the front windows, created by artist Jay Carter, replaced deteriorated leaded glass. Hardwood floors were restored or replaced and the grand staircase was rebuilt.