Hinds Hall
Special Collections Research Center
Page featured image content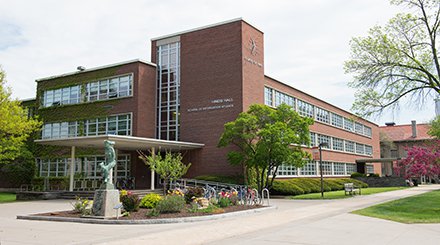 Hinds Hall, SU Photo & Imaging RS237498
Page main body content
Groundbreaking: December 1953
Construction Completed: May 1955
Building Officially Occupied: June 1955
Dedicated: October 7, 1955
Named for: William Lawyer Hinds, former chairman of the board of Crouse Hinds Co. and former Trustee of Syracuse University; headed the 1945 fund drive to establish the Syracuse University Research Institute
Architects for Original Building: King & King Architects
Contractors: Detor Construction Company
Cost: $940,000
Construction Materials: Reinforced concrete with brick facing and limestone trim
Renovations began: Summer 2003
Rededication: May 10, 2008
Architects for Renovation: Ashley McGraw Architects
Contractors: J.D. Taylor Construction of Syracuse
Cost: $10,900,000
Notes: This was the first of two engineering buildings.
William Lawyer Hinds Hall was built in 1955 to accommodate the fast-growing College of Engineering. Prior to this, the College of Applied Science, later known as the L.C. Smith College of Engineering and Computer Science, had been located on Thompson Road since 1947. The area, consisting of 120 acres and 9 buildings, had been purchased from the War Assets Administration. The University decided the college should be brought back to the main campus and in September 1952 the Thompson Road property was sold to Carrier Corporation for $3,600,000. The Chancellor set aside $1,500,000 from this sale for the construction of two new buildings.
Completed in 1955, the building's footprint occupied 63,664 square feet and was three stories high. It contained 120 rooms, including administrative offices, research and instructional laboratories, conference rooms, but no conventional classrooms. Hinds Hall was the first building completed in the University's two unit engineering plan. At the time of construction, Niagara Mohawk Power Corporation donated a $430,000 network analyzer. The computer was 66' long and 7' high. The third floor of Hinds Hall housed the Esso Laboratory, named so in 1954 when Frank W. Abrams, graduate of the class of 1912 and former vice-president of the Board of Trustees, retired as chairman of the board of the Standard Oil Company. Standard Oil donated $100,000 in Mr. Abrams honor.
In 2003, Hinds Hall was completely renovated to house the School of Information Studies. (iSchool). It received a 2008 American Institute of Architects Central New York Chapter Citation Award for the redesign and renovations.