Lampe Athletic Complex
Special Collections Research Center
Page featured image content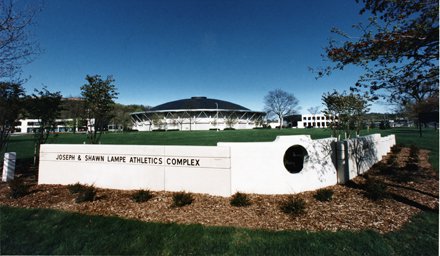 Lampe Athletic Complex, ARM 11-0485
Page main body content
Joseph and Shawn Lampe Athletic Complex
Dedicated: 1997
Named for: Joseph O. Lampe, Class of 1953 and G'55, chair of SU Board of Trustees, and his wife, Shawn
Notes: With the addition of the Carmelo Anthony Basketball Center, the Complex also included Manley Field House, Roy Simmons Sr. Coaches Center, Iocolano-Petty Football Center and several outdoor athletic fields as identified below.
Athletic Fields
J. S. Coyne Field
Dedicated: August 12, 1975
Named for: J. Stanley Coyne, founder of Coyne Textile Services, Syracuse, and philanthropist; awarded honorary Letter winner of Distinction in 1979 by SU Varsity Club
Funding: Coyne donated $600,000 for a synthetic surface for the field
Location: East Colvin Street
Notes: As of 2011, the largest outdoor sports facility on SU's campus. Used for both field hockey and as a practice football field, a 1993 renovation added a press box, bleachers for 2,700 spectators and a concession area. In 1996, the entire substructure was replaced and a new drainage system was installed, as well as new mercury vapor lights for night games. In 2005, the field was renovated again with a newer artificial surface, Astro 12.
Hookway Fields
Built: 2004
Notes: Seven natural grass fields for training, lights for night sessions
SU Soccer Stadium
Built: 1996
Notes: 120' x 75' natural grass field with stadium seating for 1,500, a concession area and press box.
Alfred Wohl Lacrosse Field
Built: 1989
Named for: Alfred Wohl, Class of 1934
Funding: Michael Wohl, son of Alfred Wohl, and Wohl family
Notes: artificial turf