Lawrinson Hall
Special Collections Research Center
Page featured image content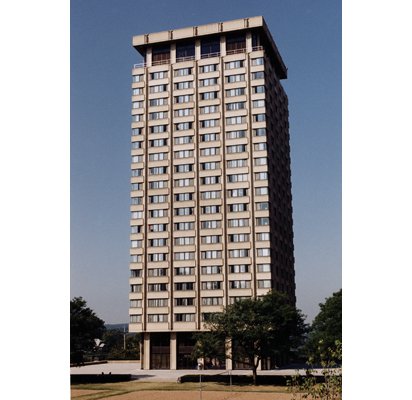 Lawrinson Hall, Image 09-0615
Page main body content
Construction Began: May 1964
Opened: September 11, 1965
Dedicated: November 6, 1965
Named for: William Henry and Elizabeth M. Lawrinson, parents of Ronald K. Lawrinson, New Jersey dairy executive
Architect: King and King of Syracuse
Contractor: Vincent J. Smith, Inc.
Materials: Exposed aggregate concrete panels on exterior; reinforced concrete structure
Location: 303 Stadium Place
Cost: $4.4 million
Funding: Financed by Federal Housing and Home Finance Agency
Space: 21 stories; 85' by 85' building rises 208' from plaza
Renovated: 2011- floors 9 through 20; 2012- renovation of remaining floors
Notes: Originally constructed as a men's dormitory, it is one of the largest residences on campus with approximately 600 students. When built, it was the second-tallest building in Syracuse and the largest reinforced concrete structure in New York State. The 21st floor boasted a penthouse lounge and private dining room. The building had 2 floors underground for parking and included a main lounge, library, and a lounge on each floor. It connected via an underground tunnel to Sadler Hall.
While Ronald Lawrinson did not attend SU, he was, according to Chancellor Tolley, a "… friend and benefactor of SU, who [was] particularly interested in higher education …".