Lowe Art Center
Special Collections Research Center
Page featured image content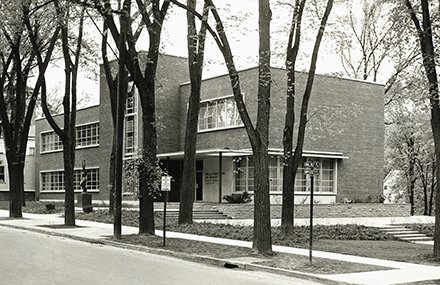 Lowe Art Center, ARM 10-1654
Page main body content
Joe and Emily Lowe Art Center
Construction Began: August 1951
Dedicated: May 13-14, 1952
Named for: Joe and Emily Lowe
Cost: $294,000
Funding: $150,000 donation from Joe and Emily Lowe for construction, and $250,000 to maintain building
Architects: Harry A. King, F. Curtis King, and Lorimer Rich
Contractor: Dawson Brothers Construction Company, Syracuse
Materials: Red brick and limestone trim
Location: Corner of Walnut Place and University Place
Converted: 1975 to SU bookstore; 1985 became part of Schine Student Center
Notes: The first building completed in the University's post World War II construction program. Annable, Wilbur, Clark and University Cottages were razed to construct Lowe. The entire northern exposure was covered by prismatic glass to provide evenly diffused lighting to four classroom studios on the first and second floors. The building contained exhibition halls, offices, a large lecture room, studio classrooms with movable partitions, a student lounge in the basement and storage space.
Joe Lowe, who grew up in Syracuse, was president of Joe Lowe Corporation. Emily Lowe, a painter, had exhibited her work at Syracuse University in 1950. Lowe had previously established a scholarship fund at Syracuse University.
In 1975 the Syracuse University bookstore took over the building. It was later enclosed as the southeast section of the Schine Student Center. The Lowe name was carried on as the Joe and Emily Lowe Art Gallery, merging in 2007 with the University Art Collection housed in the Shaffer Art Building.