Lubin House
Special Collections Research Center
Page featured image content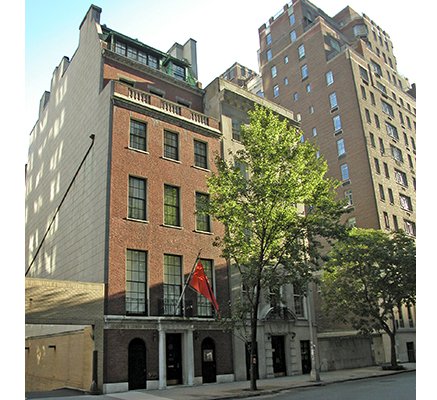 Lubin House, SU Photo & Imaging RS 8355
Page main body content
Joseph I. Lubin House
Construction: 1876 (11 East 61st Street); 1879 (15 East 61st Street)
Dedicated: 1965
Named for: Joseph I. Lubin
Building Donated: 1964 (11 East 61st Street)
Building Purchased: 1966 (15 East 61st Street)
Architects: John G. Prague (11 East 61st Street); Breen and Nason (15 East 61st Street)
Materials: Brownstone with brick facing
Location: 11 East 61st Street, New York, NY
Notes: The townhouse at 11 East 61st Street was designed by architect John G. Prague and constructed in 1876. Although the original style of the building is unknown, it was a first-class brownstone of the era: four stories high and 25 feet wide, occupying only 40 feet of the land. Since its construction, the brownstone changed owners many times and has been renovated and enlarged, adding additional floors, a skylight and an elevator. In the 1920s the brownstone was covered with brick, giving the building its current neo-federal appearance.
In 1964 the townhouse was purchased by Joseph I. Lubin, a New York philanthropist and real estate investor, and donated it to Syracuse University. Mr. Lubin's daughter Ann Lubin Goldstein had attended Syracuse University, graduating in 1948. Originally called Syracuse University House, the building was initially intended as a gathering place for area alumni. The Board of Trustees held their first meeting outside of Syracuse at the House on June 4, 1965. In December 1965, the building was renamed in honor of Joseph I. Lubin.
In 1966, the building next door at 15 East 61st Street was put up for sale. With the idea of one day expanding its existing space, Syracuse purchased the building. In 1981, Joseph Lubin donated funds to help renovate this neighboring building into usable space for the University. Renovation commenced in 1993. The five-story building was originally designed by architects Breen and Nason and was erected in 1879. In 1919, the then-owner commissioned a renovation; that facade remains today.
Under the direction of 1960 School of Architecture graduate Richard Hayden and his firm Swanke, Hayden and Connell, floors were removed and rebuilt at the same levels as those at 11 East 61st Street and the two buildings were joined at the first, second, third floors. The renovation was completed in spring 1995.
In 2001, again under the direction of Richard Hayden, 11 East 61st Street underwent overall renovations to its infrastructure and restoration of the House's historic rooms. Renovations were completed in summer 2002.