Sadler Hall
Special Collections Research Center
Page featured image content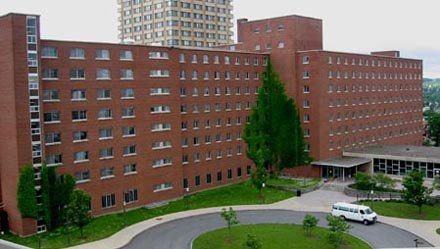 Page main body content
Construction Began: July 1958
Dedicated: November 11, 1960
Building Occupied: Used for conferences in summer 1960; occupied by students September 1960
Named for: John W. Sadler, class of 1896 and former Surrogate Judge of Onondaga County, and his sister Nettie M. Sadler, class of 1900
Cost: $3,434,364 (with landscaping and furnishings)
Funding: $3 million loan from Communities Facilities Administration of the Federal Housing and Home Finance Agency
Architects: King and King
Contractor: William C. Pahl Construction Company
Materials: Red brick
Location: 1000 Irving Avenue
Space: When opened the building had facilities for housing 476 students and dining facilities for 800. Also included were an open lounge with a study room, a snack bar, and a laundry room.
2013 Renovations: Bathrooms updated; dining center remodeled including a 5,200 square foot addition
Notes: Originally built as a men's dormitory, the residence hall was built on a section of the former Hendricks Field.