Sims Hall
Special Collections Research Center
Page featured image content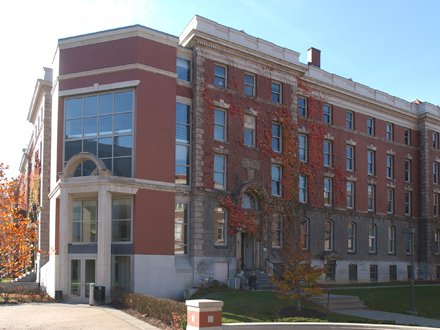 Sims Hall, SU Photo & Imaging RS 8246
Page main body content
Contract for Construction Announced: March 28, 1906
Groundbreaking: April 2, 1906
Completed: May 1906
Occupied: September 1906
Cost: $135,000
Funding: John D. Archbold contributed $122,500
Style: Renaissance
Architects: Professors Frederick Revels and Earl Hallenbeck
Materials: Marble base; red brick and terra cotta
Named for: Chancellor Charles N. Sims, 1881-1893
1946-1951 Addition: Cost: $720,000
1995 Addition: Cost: $2.4 million
1995 Architect: Schleicher-Soper, Syracuse
1995 Contractor: Murnane Building Contractors
Notes: In January 1906 the Board of Trustees approved Chancellor Day's proposal to build a men's dormitory. The building was divided into five sections and with a dining hall for 250 occupying the ground floor. Although the building was completed in 1906, it was not named Sims Hall until the opening of the 1907-08 academic year.
Interestingly, Sims was constructed with funds originally donated for library support. Philanthropist Andrew Carnegie had donated money for the construction of a library on campus, with the stipulation that SU raise an endowment for library purposes. Once this $150,000 endowment had been raised, Chancellor Day, with the consent of the donors and University trustees, used the fund's capital to finance the construction of Sims Hall, the income from which was allocated to the library. John D. Archbold was reported to be the endowment's largest contributor. Yet, in a letter from Frederick H. Hurdman, public accountant, to Mr. Archbold containing a schedule of Archbold's contributions to Syracuse University from 1886 to 1914, nothing is listed for the library endowment, while a $122,500 donation is listed for the men's dormitory. All the news accounts of the day state the construction of Sims Hall was being built through the generosity of John D. Archbold.
In August 1944, Sims Hall was converted into a women's residence and remained so until the fall of 1956 when it was converted to men's housing. In late 1946 construction started on the dining hall addition to Sims, but shortages of material slowed the construction and students did not begin to use the dining hall until February 1948, and even though the addition was not complete. When completed a few years later, it seated 1,000.
During the 1960s two sections of the dormitory, Sims IV and V, were converted into offices for the Psychology Department. The basement contained the office of the University Switchboard. By 1963 Sims career as a dormitory was ending and the building began its conversion to classrooms and offices. Two sections were renovated and the remaining three sections were cleared of occupants as new men's housing was completed.
A major renovation and building update, begun in 1994 and completed in 1995, included a new glass-enclosed 4-story campus entrance. In 2011 construction began to fill in the previously open courtyard space to create a new Communications Center for the Department of Public Safety (DPS).