Center for International Services
Special Collections Research Center
Page featured image content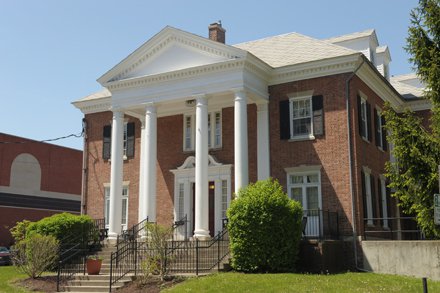 Slutzker Center , SU Photo & Imaging RS 8486
Page main body content
Constructed: Prior to 1894
Building Acquired: 1970 from Sigma Phi Epsilon Fraternity
Cost: $75,000
Location: 310 Walnut Place
Renovated: 1999
Dedicated: October 27, 2000
Named for: Lillian and Emmanuel Slutzker, who for many years supported Syracuse University. Mrs. Slutzker was interested in supporting international students and their families, especially those from Central Europe, for whom she felt a special kinship. The Slutzkers met in Wales in 1944 when he was serving in the US Army and she was a refugee from Budapest having lost both parents in Auschwitz. Married in 1947, they opened Manny's athletic apparel store on Marshall Street in 1949. Son Craig Slutzker graduated from SU in 1979.
Speakers: Patricia Burak, Barry Wells, Hasan Kaplan and Kanika Khanna
Funding: $1.9 million endowment from Lillian Slutzker for renovations and program support
Notes: Originally named Lillian and Emanuel Slutzker Center for International Services. Early references to the building list its owner as Allen M. Wardell, a successful businessman associated with the Rome (NY) Iron Works. His daughter, Helen Wardell, graduated from SU in 1888. In June 1896 the wedding of Helen Wardell and Delmar E. Hawkins, professor of Political Economy and 1906 graduate of the School of Law, was held here with Chancellor Day officiating. The Wardells and Hawkins lived in the home until approximately 1915 when it was acquired by Sigma Phi Epsilon fraternity. In 1970 SU purchased the building to create a Student Center. With construction of Schine, the building became the Center for International Services. The Slutzker Center for International Services (SCIS) offers supportive services and programming to international students and their families. It serves as the official liaison office with the U.S. Immigration Service for all non-immigrants at Syracuse University and SUNY ESF.