A Century of Syroco
Less than one linear foot, the Syracuse Ornamental Company (Syroco) Collection consists of two document boxes and a handful of product catalogs, documenting the company's century-long history.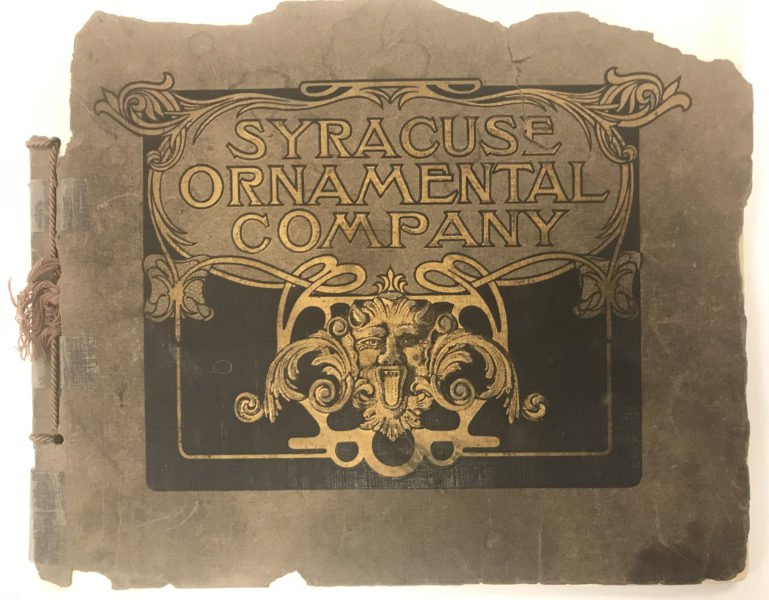 By Grace Wagner, Reading Room Access Services Supervisor
I work in SCRC's Public Services department and, by far, the collection that we receive the most questions about is one of our smallest. Less than one linear foot, the Syracuse Ornamental Company (Syroco) Collection consists of two document boxes and a handful of product catalogs, documenting the company's century-long history.
Whenever I or one of my colleagues sees a question about Syroco arrive by email, we call out, "SYROCO!", and the question is promptly sent my way. My interest in -- one might say my affinity for -- Syroco comes from years of discovering the signature black and gold circular logo on the back of estate and garage sale finds.
It is not surprising that so many researchers assume Syracuse University must hold a robust collection of Syroco materials. After all, Syracuse, NY, is where the SYRacuse Ornamental COmpany was originally founded and, in part, where the Syroco Company derived its name. The company was founded in 1890 by Austrian immigrant Adolph Holstein, and continued operating locally for over one hundred years. Its headquarters were located in downtown Syracuse in a factory on South Clinton Street, and, at the company's height, it employed approximately 400 workers in the area.
One of the hallmarks of the Syroco Company was its astounding ability to invent and reinvent itself numerous times over more than a century of business. Syroco products are distinct, but each era of production is marked by certain hallmarks of the day. In this way, the company serves as an interesting benchmark for trends and progress over time. When Syroco first started manufacturing its unique product, the focus was primarily on ornamental decoration. The earliest catalog in our collection, dating to 1908, features pages of fancy scrollwork, hand-carved from wood.
By the 1920s, Syroco began to shift from this more laborious craftsman style of production to one that was more practical and quickly became the company's signature. In a 1923 catalog from our collections, the company is still advertising wood carvings and moldings for home decor, but denotes that Syroco is now producing a "90% wood product," in hopes that their "rare and superior" product would "now [be] made practical." The advertised "wood product" was composed out of a mixture of wood pulp from the Adirondacks, flour, and other binding agents, which were poured into moldings to create decorative home goods. The moldings resembled traditional wood-carved objects.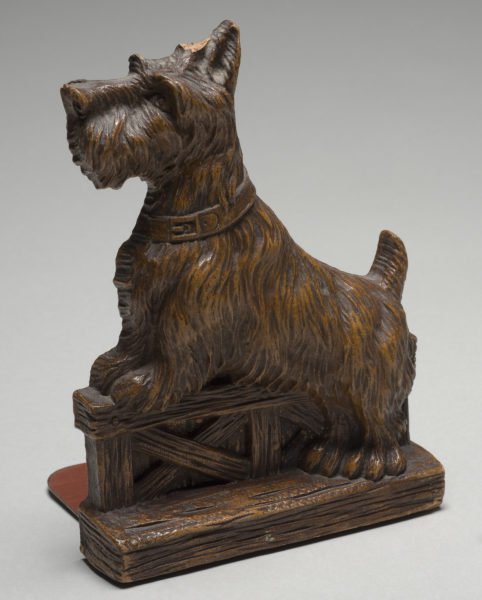 A SyrocoWood Scottie dog bookend dating to the 1940s that is part of SCRC's Plastics Artifacts Collection.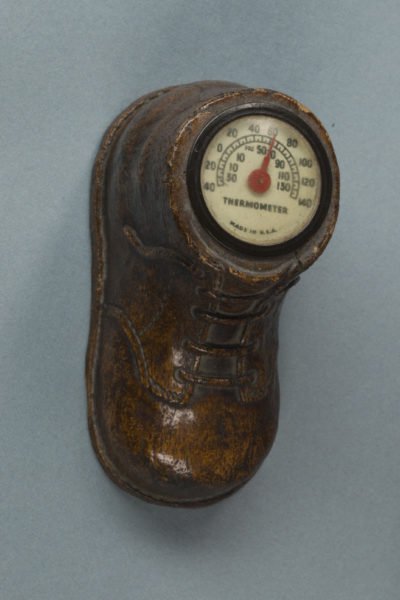 A SyrocoWood novelty thermometer in the shape of a shoe that is also part of SCRC's Plastics Artifacts Collection.
During the 1930s and 1940s, the company put forth their "SyrocoWood" line of novelty items. This is perhaps my favorite era of Syroco design. Among the novelty items manufactured, there was a significant amount of decorative wall art in religious and seasonal themes, as well as shaving kits, tie holders, corkscrews and cigar boxes in traditionally 'masculine' themes, like sailboats, dogs and horses.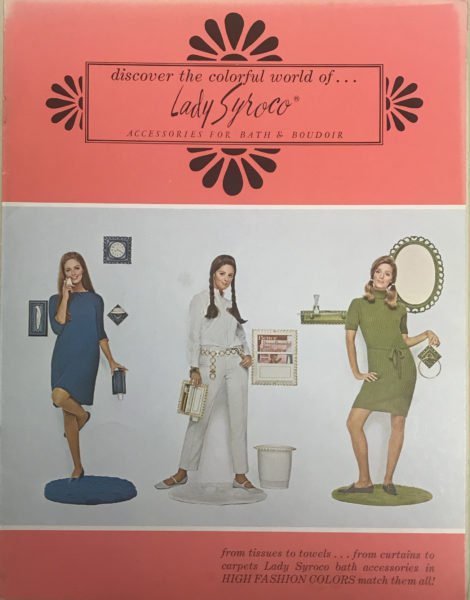 Syroco catalog circa 1968-1969: "Discover the colorful world of...Lady Syroco Accessories for Bath & Boudoir."

The relatively sedate, still-recognizably-wood designs of the 1930s and 1940s began to transform into brightly colored products that were frequently finished with gold by the 1950s and 1960s. A line of "Lady Syroco" products were also introduced in the 1960s, complete with color-coded mod-models hawking bathroom wares, as well as a line of "Syroco Art" in 1970, featuring contemporary and classic works of art in Syroco frames. It might not be surprising to hear that the company was also expanding its production to include more plastic products at this point in time.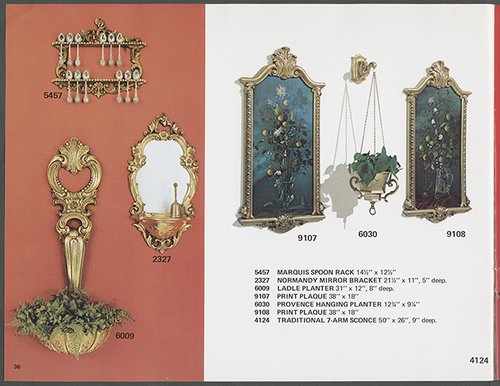 A page from a mid-1970s Syroco catalog, featuring the gilded style of later years of Syroco.
Eventually, the failing company began manufacturing plastic furniture in the 1980s and 1990s, before officially closing its doors in 2007. Still, interest in the company has not waned. In particular, estate sales, garage sales, antique stores, and uncleared garages and basements have given the company a second life. Frequently, researchers who contact us in search of information about their Syroco object are individuals who have discovered their piece in one of these places.
Although I have become relatively familiar with the pages of the catalogs in our Syroco Collection, having reviewed them a number of times for different research requests, I still enjoy helping people discover if their object is a Syroco product. I understand their excitement, because I've felt the same way upon discovering Syroco objects I own in the pages of one of the original catalogs. I picked up a Scottie dog tie holder, a "SyrocoWood" product, at an estate sale a few years ago that now holds some of my jewelry. Although the tie holder has only been hanging on my wall for a few years, many mid-century homes in Syracuse and across the United States never removed their Syroco decorations since they were first hung on the wall.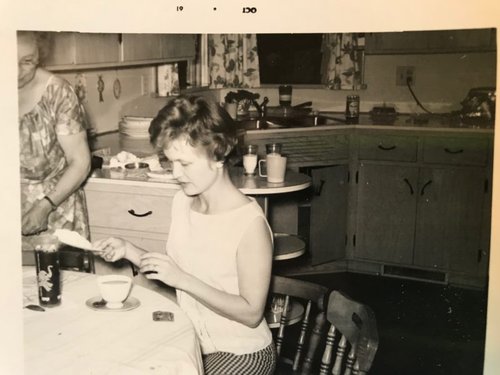 My Grandma Lou sitting at her kitchen table in the 1950s with a piece of SyrocoWood art likely hanging on the opposite wall just out of sight.
Recently, I realized that my grandma fell into this category. As long as I have visited her Ohio home, and likely since her house was first built in 1956, she has had one of Syroco's products, a depiction of The Last Supper (also part of the "SyrocoWood" series), hanging over her kitchen table. I have a picture of this object, thanks to my uncle, and I can confirm that it was manufactured by Syroco in the 1930s, thanks to a picture in one of our collection's catalogs, but I can't seem to find a family picture documenting its familiar presence on her kitchen wall. I can only rely on my memories for this confirmation. Even so, I am certain that it is hanging just out sight of the camera's lens in the above picture of her sitting at her kitchen table from the 1950s.
The Syracuse Ornamental Company (Syroco) Collection (Syracuse Ornamental Company (Syroco) Collection, Special Collections Research Center, Syracuse University Libraries) and the Plastics Artifacts Collection (Plastics Artifacts Collection, Special Collections Research Center, Syracuse University Libraries) are part of the Special Collections Research Center's manuscript collections.