A Perfect Pair of Graduate Student Summer Projects
Two students working this summer in the Belfer Audio Archive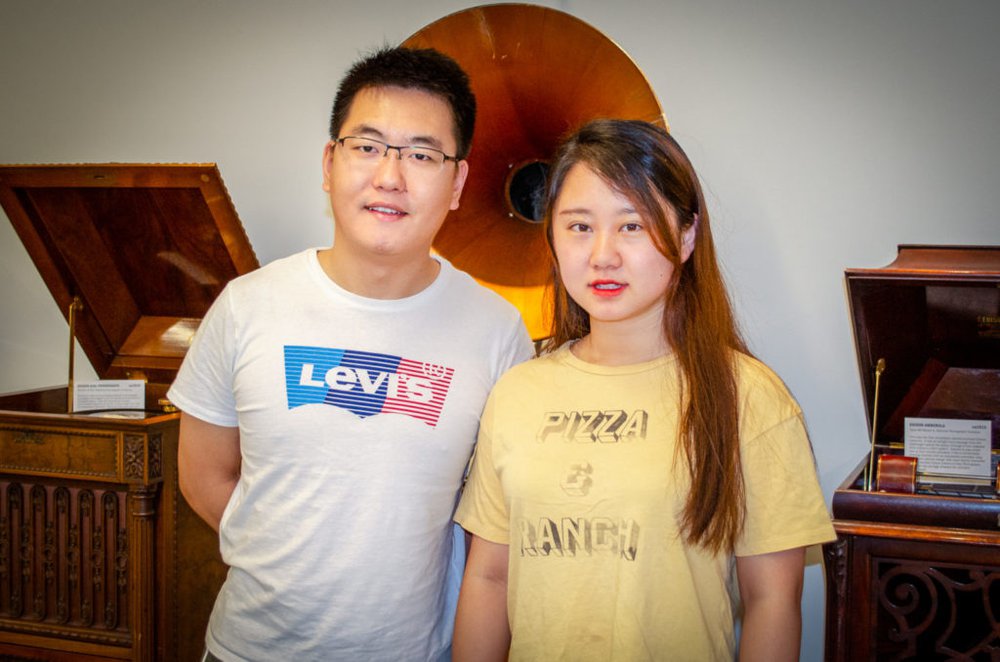 Student workers join the Special Collections Research Center over the summer to work on focused projects and internships. For the month of August we will be highlighting student work and student research projects from summer 2019. This week, we highlight a pair of graduate students working in our Belfer Audio Archive on digitization and audio preservation projects.
By Colleen Theisen, Chief Curator
Two students working this summer in the Belfer Audio Archive have a surprising connection. Jenny Jian and Young Yang have been a couple for 8 years and been married for 6 months. They went to the same high school, the same university for undergraduate study, and now are pursuing their master's degrees at Syracuse University together.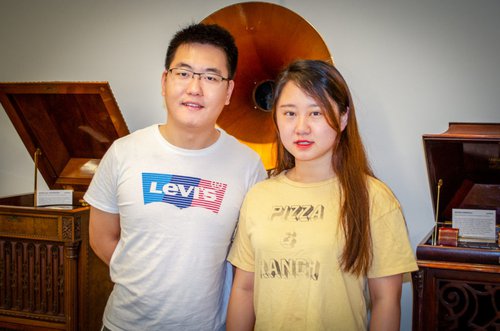 Young Yang and Jenny Jian
Jenny Jian, a student in the Audio Arts master's program ('19 Newhouse & VPA College) is part of a pilot program to have student workers perform digitization work on the Latin American 45 collection.
The Bell Brothers Collection of Latin American and Caribbean Recordings at Syracuse University Libraries contains over 12,000 recordings from North, Central, and South America and the Caribbean. The 45-rpm disc collection includes various types of music such as merengue, bolero, guaracha, chachachá, pachanga, merecumbé, seis fajardeño, bomba, plena, mambo, guaguancó, son montuno, charanga, guajira, música jíbara, danzón, and more.
Max and Joseph Bell, the owners of the Bell Music Box, a New York City record store, were avid collectors of Latin and Caribbean music. Syracuse University acquired the entire inventory of the Bell Music Box store in 1963 and recently began a major digitization project to preserve and make accessible this unique collection.
Using digital audio production skills gained from the SRT program, and following a comprehensive training guide developed at Belfer, Jenny inspects and replays materials from the Latin American 45 collection. She also captures relevant technical metadata which is then embedded in the archival master files.
Jenny's work is part of a pilot program to incorporate qualified student workers to increase digitization output on the project. So far, the team has digitized over 4,500 of the approximately 12,000 discs in the collection. Adding students to the team has enabled the Belfer staff to tackle this large project at a faster rate.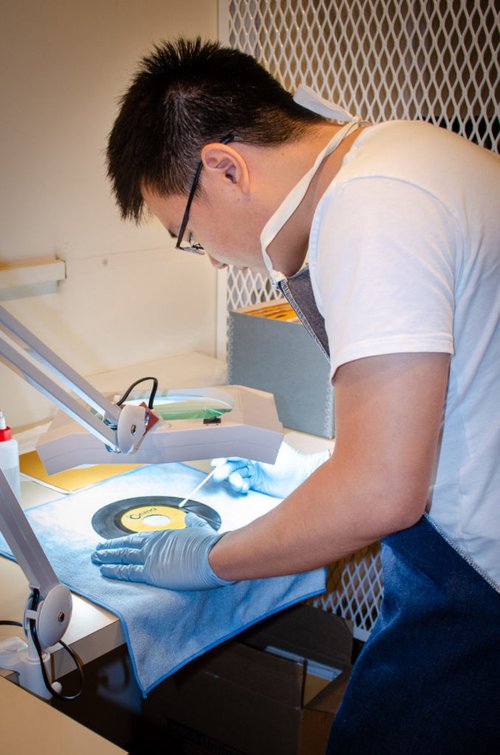 Young Yang cleaning records.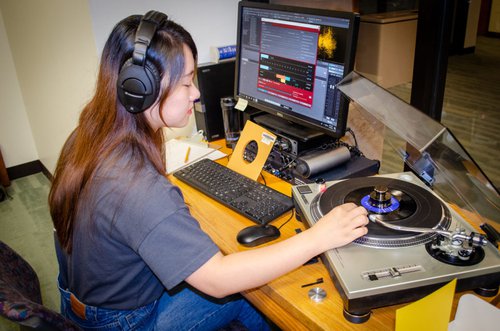 Jenny Jian digitizing 45 rpm records.
Meanwhile, Young Yang, a student in the Art Video MFA program ('19 VPA College) has been working on disc cleaning and image processing for the same project.
Much of the collection dates from the 1950s and 60s, and may have been stored in less than ideal conditions since then. Poorly cleaned discs will render audio transfers which are unacceptable for archival preservation. Yang's work is a vital step in quality assurance on the project.
In summer of 2018, SCRC undertook the Catalyst project in partnership with vendor AVP to photograph the entire LA45 collection and gather label metadata for cataloging. The high resolution images captured will enable researchers to examine not only the labels, but the runout area at the end of the groove where valuable information is etched or stamped during disc manufacture. Yang is cropping and applying filtering as necessary to images, according to the workflow developed at Belfer. These images will serve as visual surrogates for the original materials, reducing the need for handling of fragile and often rare discs.
Together, the couple is helping Belfer preserve audio recordings every step of the way, from cleaning to processing images to digitizing recordings.
The Special Collections Research Center is dedicated to providing opportunities for student learning and research. Stay tuned for more updates from our students throughout the month of August.
The Bell Brothers Collection of Latin American and Caribbean Recordings are part of the Belfer Audio Archive collections. (Belfer Audio Archives, Special Collections Research Center, Syracuse University).