April 2020 Wrap Up
Today marks six weeks since SCRC and SU Libraries moved to online operations.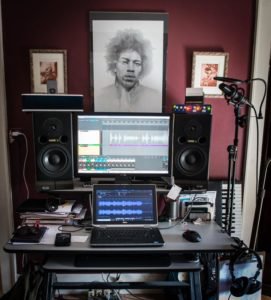 By Grace Wagner, Reading Room Access Services Supervisor
Today marks six weeks since SCRC and SU Libraries moved to online operations. April, however, has been the first full month that staff members have worked remotely, and it certainly changes the way our department typically functions.
Updates on past and upcoming public events and news of newly processed collections have lessened significantly this month, as opportunities to meet publicly and work directly with special collections materials onsite have been unavailable. We are figuring out what special collections looks like in the immediate future one step and one day at a time, but that doesn't mean we're not still working to make our collections available and accessible for current and future use.
Classes taught with special collections items continue as we hurtle towards the end of the spring semester, our processing department has been hard at work providing metadata for online collections, and our public services team continues to answer reference questions to the best of our limited abilities. Starting this month, we will be sharing some of these staff member experiences (and home office set-ups!) while we work remotely. Please enjoy our April wrap up!
Looking Back at April Events
Thursday, April 23, 2020: SCRC Chief Curator Colleen Theisen participated in a Folger Shakespeare Library virtual event in honor of William Shakespeare birth/death day for the "In the Collection: Staxpeditions" session, exploring digital library collections in a panel discussion. You can watch the full recorded session here.
Newly Processed Collections
Special Collections. George Family Photograph Collection: A collection of candid family photographs, most from the Georges, reflecting African-American life in the mid-twentieth century.
SCRC Works from Home
By Jim Meade, Audio Preservation Engineer
In audio preservation engineering, I've completed post-production on 30 hours of analog tape transfers over a glitchy VPN, (which library IT worked tirelessly to help solve, thanks guys!). Unfortunately, the speed of my domestic IP connection does not help.
I miss our excellent preservation studio at Belfer. Trying to monitor audio over barking dogs and traffic certainly emphasizes the upside of the Belfer studio as a work environment.
I have also completed editing and metadata gathering for all student transfers on our Latin American 45 project, which is now up-to-date.
Producing materials for online class presentation was something I did not expect to be so time-consuming, so I learned a lot in that process. Presenting to classes online is frustrating for me personally, because I like to work with physical media samples for discussion, things I can point to and hand around to students, as well as playing legacy formats live in the room as a listening experience. There are definitely professional development opportunities for me in learning how to do this more efficiently.
Catching up on lots of writing, especially in my role on the SULA executive board.
I'm also looking forward to getting involved in upcoming projects with the Head of the Digital Library Program, Deirdre Joyce and Digital Projects Coordinator Mike Dermody.
Belfer is definitely keeping busy!
Online Resources
Finally, even though our buildings are closed, we have some great online collections and resources that we would encourage you to review in the meantime:
SCRC Digital Collections: Featuring Belfer Cylinders Digital Connection, Plastics Collection, Marcel Breuer Digital Archive, and more!
SCRC online exhibitions: Featuring our recent Chancellor's Online Exhibit and 150 Years of Traditions at Syracuse University among others.