Bento-box Focus Group
NCSU Libraries' bento-style search interface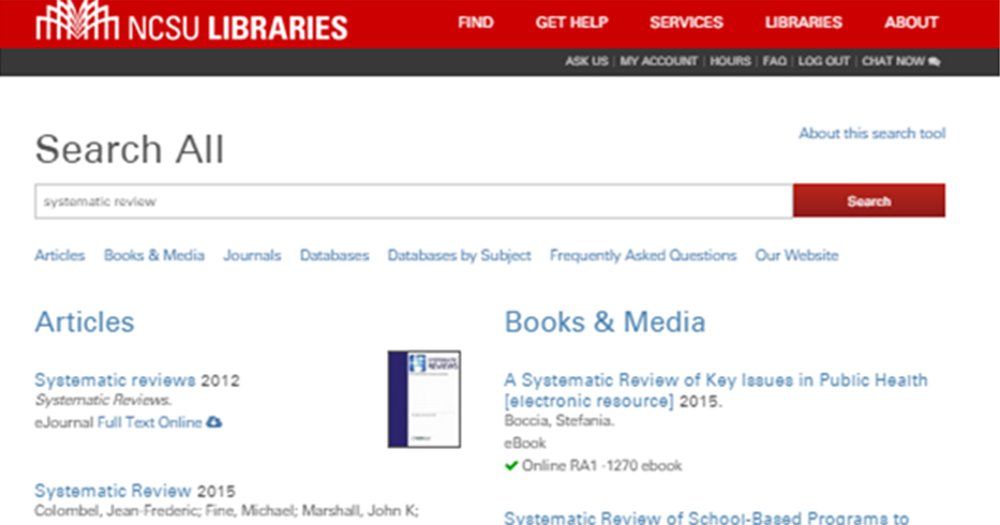 What is a focus group?
A focus group is a research technique used to collect data through group interaction – basically, it is a conversation! The group comprises a small number of carefully selected people who discuss a given topic, which will be led by a moderator.
What is a "bento-box" search?
Named after the popular Japanese container of assorted foods, a "bento-box" search returns side-by-side results from multiple library search tools, such as the Library Catalog, database index, LibGuides, institutional repository, and more. Both Duke University Libraries and Cornell University Libraries use bento-box styled searching, among many other academic and public libraries.
How do I participate?
Participants will provide feedback by answering the moderator's questions and sharing thoughts on the topic. There are no right or wrong answers, and this is not a test of participants' knowledge or expertise.
How long is a session?
60-75 minutes.
When and where?
Dates and times TBD. The study will be held over Zoom.
Interested in participating? 
Please fill out the form below, and Natalie will follow up with more information.
Focus Group Participant Sign-Up Form: https://syr.libwizard.com/f/focusgroup
Questions?
Ask away! Feel free to send questions to Natalie LoRusso (ncloruss@syr.edu), Laura Benjamin (lmnemitz@syr.edu), Karen Carnessali (kjcarnes@syr.edu), or Juan Denzer (jpdenzer@syr.edu).