Researching Stenogravures, Crystopal and Armand Winfield
Stenogravures are very strong and are akin to stone carvings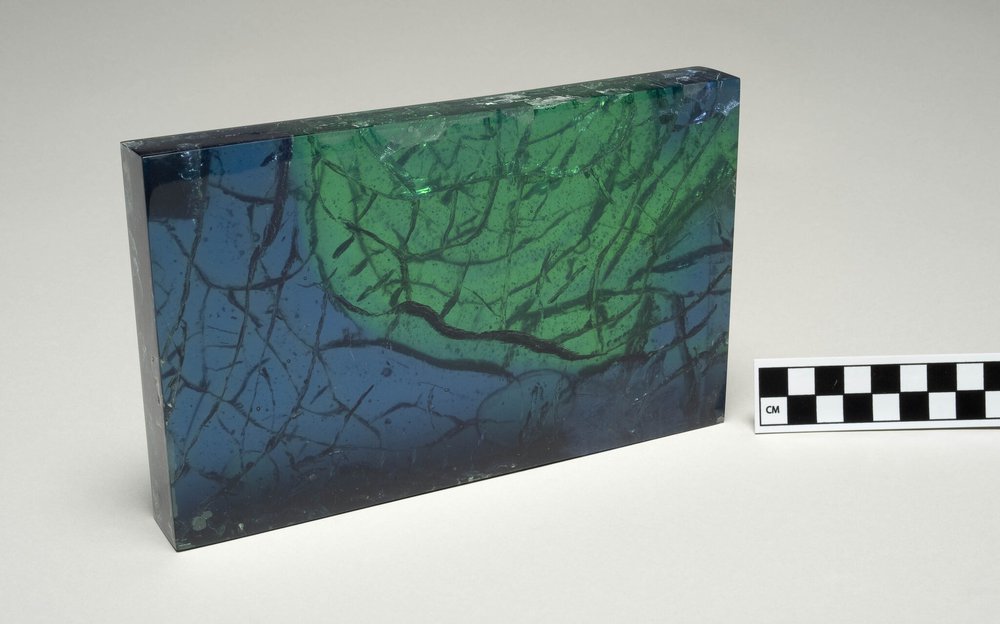 by Jonah Carter, Plastics Artifacts Processing Intern
During the Fall semester of 2020, I was a processing intern for the Plastics Artifacts Collection. This processing internship not only provided me with the practical knowledge of how processing, organization, and arrangement work in archival and special collections, I also learned more about the process of archival research.
During my time as an intern, I handled a variety of very interesting plastic materials that ignited interest in studying them further. One of these materials I came across are called stenogravures. The stenogravures are very strong — as they are composed of phenol formaldehyde resin (the first commercially available synthetic resin) also known for comprising Bakelite — and are akin to stone carvings. Each stenogravure has a carved image on it; there were quiet a few carvings of landscapes, animals, people, events, and infrastructure. Stenogravures were created by Walter Stenning as mini art carvings on plaques in 1921. The Special Collections Research Center contains the first stenogravures ever created in 1923 and the production of these materials ended in 1932. The information about Walter Stenning is limited; however, I believe he later died in 1937 based on ancestry records (Detroit Free Press, 1937, 27). Stenogravures are rare due to the fact that Stenning was the sole producer of these materials over only a nine year period and they are limited in number. Syracuse University holds thirty-nine in its possession via donation (Clark, 2017, 7-9).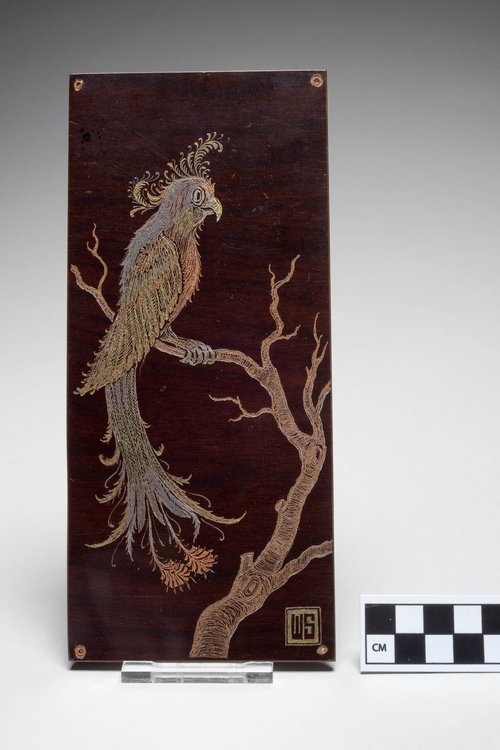 An example of a stenogravure of a parrot. Plastics Artifacts Collection.
The second material that drew my attention was a beautiful, rectangular, stone-like plastic that could be mistaken for crystal. This material was crystopal, a plastic material that was created to mimic the appearance of hard crystal stone. It was due to this crystal-like nature and unique pattern inspired me to research crystopal further. The researching process for crystopal has been elusive. Much like Walter Stenning, finding extensive information on the material itself and its development proved challenging within a semester alone. Perhaps the information is waiting to be uncovered deeper within the plastics collection area holdings. However, I did gain more knowledge on Armand Winfield, the creator of crystopal, and the history of the plastics industry when researching crystopal and this made me transition my research from the material itself to its creator.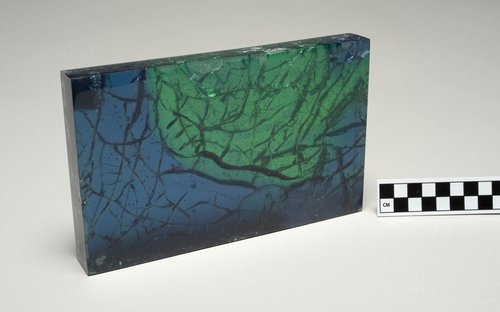 Blue-green sample of Crystopal. Plastics Artifacts Collection.
So who was Armand Winfield? Fortunately, I was able to find out more through his Armand Winfield's personal papers, which the SCRC holds a portion of (the Smithsonian National Museum of American History also holds a portion of his papers). Born in 1919, Winfield was an innovator within the fields of plastic development, business, plastics engineering and design, as well as plastics history. Winfield studied geology in school and worked in the fields of anthropology and art upon graduation. In his college years, he worked as the assistant of his school's Geology Department and as the school's Museum Curator. He furthered his work in the field of art with his specialty being embedding materials in acrylics and making unique jewelry (Winfield, 1992, 41-43). His experiences in embedding objects in acrylics and jewelry-making serve as the beginning of his journey as a plastics creator, developer, and consultant.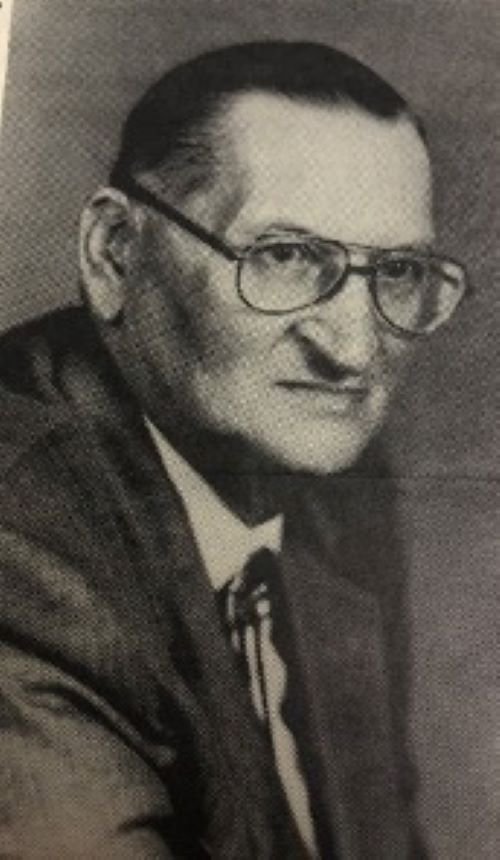 Photograph of Armand Winfield.
In 1945, Winfield founded his own fine art museum in New York City after serving in World War II (Winfield, 1992, 41-43). It was after he earned his masters degree that Winfield became a plastics consultant and engineer in addition to a university instructor on the subject. Starting in 1964, Winfield founded his own plastics consulting company, and common consultation jobs included designing and developing amusement parks (Winfield, 1992, 44-47). It was the consultant work Winfield undertook during this time that helped him achieve international acclaim and expertise in plastic development and business. When he expanded into plastic development, he focused on building construction and housing development across the world, with India being one of his most popular countries for these business engagements (Winfield, 1992, 48-50). Winfield had a wide-ranging impact on the plastics market and its subsequent development. The materials he created are found in so many homes and buildings around the world — the scale wide-ranging from the small (jewelry embedments) to the large (housing structures). The Armand G. Winfield Papers are an exciting resource for plastics research and potential discovery.
Without this internship I would have likely never have learned about the history of plastic development, specific artifacts of interest, and figures that have impacted the world many times over. Fleshing out an area of history I have never experienced before in a manner of research I have not conducted yet has been one of the most rewarding and interesting parts of my academic and professional career.
---
The Plastics Artifacts Collection (Plastics Artifacts Collection, Special Collections Research Center, Syracuse University Libraries) and the Armand G. Winfield Papers (Armand G. Winfield Papers, Special Collections Research Center, Syracuse University Libraries) are part of the Special Collections Research Center's manuscript collections.
---
References:
Clark, C. (2017). Stenogravures: Miniature Works of Art, Technology and Plastic. Plastiquarian. Plastics Historical Society.
Detroit Free Press. (1937, March 19). U.S. Newspapers Obituary Index, 1800s-Current. Ancestry Operation Incorporated. https://www.newspapers.com/image/97622815/?article=9a8e215d-a3a6-4176-9ec0-3d4987ceefc7&focus=0.25421575,0.8469208,0.3744949,0.9664477&xid=3355.
Stenning, W. (1927). Stenogravure of Parrot. Oversize Box 466. Accession Number 2010.032.17. Plastics Collection. Special Collections Research Center. Syracuse University Libraries.
Suazo, C. (1991, September). Photo of "Armand Winfield." Armand Winfield Incorporated. Special Collections Research Center. Syracuse University Libraries.
Winfield, A. (1962). Crystopal Sample. Oversize Box 451. Accession Number 2003.1318. Plastics Collection. Special Collections Research Center. Syracuse University Libraries.
Winfield, A. (1992). Plastics: 1942-1992 – A Personal Overview of the Past Half Century. ThePapers of the 50th Annual Technical Conference of the Society of Plastics Engineers.