Boxing the Collections with a Box Making Machine
Interview with David Stokoe
By Colleen Theisen, Chief Curator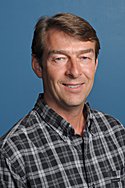 Can you tell us about your job and what you do?
I began my career in 1982 with a 3 year apprenticeship in Archive Conservation in my home city of Newcastle-upon-Tyne (UK), moving to the Isle of Man in 1993, Carlisle (UK) in 1997, NYC in 2001 and then Syracuse University in 2006.
My job has many different facets but focuses on two primary functions, the preservation and conservation of books, paper, parchment/vellum, leather, papyrus, wax seals and most other library formats.  I'm also responsible for exhibition preparation, disaster planning/reaction, conservation education and lab management.
My preservation efforts include the use of archival quality housings (boxes, folders, sleeves and folders), together with environmental control measures (temperature, humidity and light) to reduce or arrest further deterioration.
My conservation activities involve the treatment of individual items - cleaning (dry and aqueous), chemical stabilization, and the physical repair of paper, bindings and skins. All work must comply with professional standards, do no harm and be reversible wherever possible.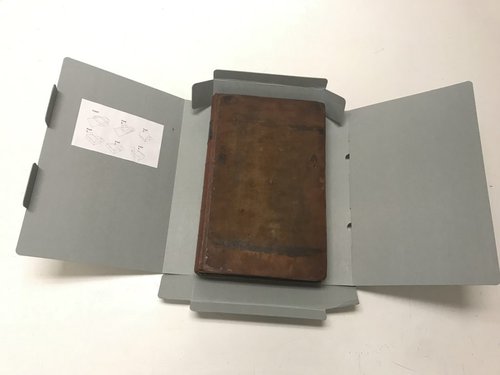 Why does an academic library need boxes?
The Special Collections at SU are not just a treasure of information, they're also valuable assets with considerable resources invested to ensure their longevity and access.
Creating boxes for archival materials helps prevent unnecessary bright light, dust, and humidity from causing deterioration to these documents.
Ever expanding collections and limited suitable storage have prioritized some collections for high-density off-site storage when appropriate. Any off-site items needed on main campus must be securely housed for transportation by our dedicated staff.
What's the history of the box making machine at SU Libraries?
We purchased the box machine in September 2017, previously we handmade a variety of custom boxes but it was labor intensive and not always the best fit! The proposed relocation of some collections to offsite storage necessitated radical measures, and thinking outside of the box! Although a costly investment, users estimate the machine breaks even at 2 – 3 years and the supplied bespoke box designs provide flexibility to quickly construct enclosures that fit perfectly. We also acquired a digital measuring device that scans the call number and inputs catalog record information, which includes book dimensions, into a spreadsheet. Data is imported into the box cutter and processed to maximize book templates per 60" x 40" board, averaging 6-8 books with little waste. The box machine creases, cuts and prints call numbers so all we have to do is assemble the finished product. The equipment is mainly used for special collections material but is also used to box general collection materials as well.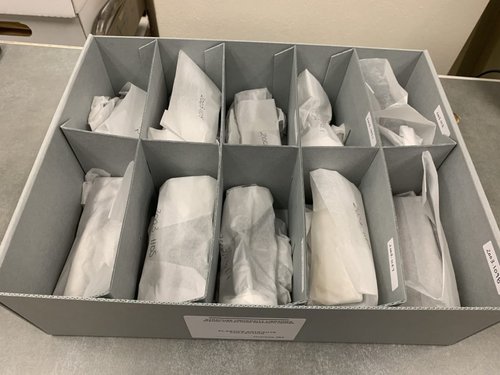 What are the advantages to using a machine like this?
The book measuring device and box cutter have streamlined our rehousing efforts, eliminating human factors such as measuring, creasing and cutting errors. Handmade boxes also take more time, use more board, and can be exhausting for one person to work on all day everyday to produce at scale.
The prospect of making 18,000 book boxes without some kind of mechanized production was a daunting and overwhelming prospect!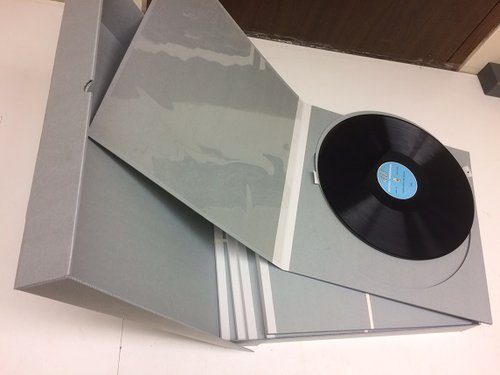 Sleeve for one of LP records in SCRC's holdings
Can you make custom designs?
Yes, the software has a draw package so I can design and produce new options when the bespoke options aren't suitable.
The software's 57 bespoke templates include book and document boxes, a photographic slide box, rolled map boxes (square or triangular) and many others so we can usually identify a suitable design without starting over.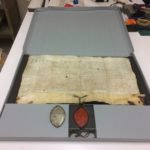 The most challenging item to house in a new box, parchment document with attached pendant seal.
What unusual items have you designed boxes for using the machines?
SU has a huge collection of 7", 10", 12" and 16" audio disks, which we are rehousing and digitizing for long term preservation. Fragile or broken audio disks have always been a problem until now as keeping any parts together and protected can be challenging.
Using the machine and software, I've designed circular sink-mat enclosures in various sizes that allows safe storage and handling during digitization.
Compartmentalized boxes have been designed for our Plastics collection, outer box dimensions based on shelf size with adjustable dividers according to content size.
A similar design is used for boxing wax cylinders and can be customized to fit various sizes.
The most challenging item was a parchment document with an attached pendant seal.  The parchment was tightly folded and needed to be flattened using controlled humidification, the seal lived in its original padded metal box and was in great condition. The design has recessed areas to accommodate the various parts so figuring out the numerous dimensions was not easy and a couple of prototypes were produced before I got it right!
See the box making machine in action in the video!