Browse the Libraries Shelves Virtually
Browse the bookshelves virtually.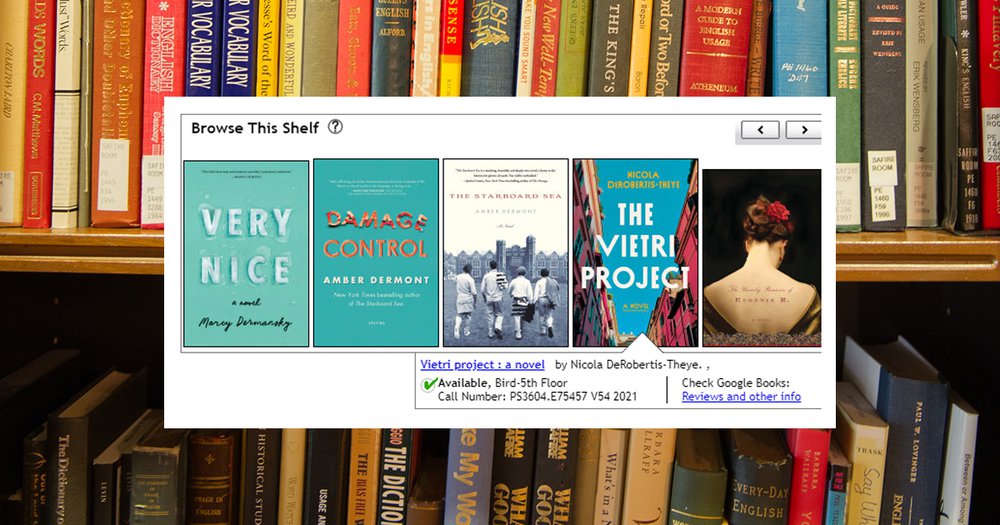 Simulate the browsing experience virtually from the book's online record in the Libraries Classic Catalog. Summon searches will also take you to this record for a library item too.
The "Browse this Shelf" feature is located at the bottom of the catalog record and allows users to scroll along the virtual shelf by Library of Congress call number. Since this feature includes not only print books, but ebooks, journals, microfilm, maps, and other items that may be physically separate in different Libraries' locations or only exist online, it improves upon in-person browsing by bringing together more materials on the same topic. Hover your computer mouse over a book cover to see title, author, copyright year, availability, call number, and location. Google Books' Limited Preview is available for some titles, allowing access to parts of the book's content, as well as a link to reviews and other information if they exist.  Click on the book cover to see full information about that title.
After browsing, users with a valid SU ID can request any print books they locate for pickup.